FAA Champs! Boys Varsity Basketball Sweeps GFA
On Thursday, February 27, the SLS Boys Varsity Basketball Team won the FAA Championship over one of our biggest rivals, GFA. The game was tied for most of the game, and the final score was 56-52. The energy was high, and the student section was ecstatic. It was a phenomenal game for St. Luke's and all the fans.
Throughout the game, the student section was led in many chants by Dylan Johnson '20 and Nick Brown '20, the "Monsoon Leaders." Some of these chants included, "Let's go Luke's!", "Defense!", "This is our house!!", and the frequent "You can't do that!" whenever GFA fouled.
The team's starters, Chuck Clemons '20, Gavin Greene '20, Cole Bryant '21, Justin Covington '22 and Lewis Cropper '21, led our offense with fierce determination. The team had many game-changing rebounds and was outstanding on defense. They stopped GFA from completing many layups and shooting a bunch of 3's.
Ethan Crawford '23 said, "For our team to come back from losing in the same position last year and to stick together, work hard, and tough it out is impressive. Definitely one of the toughest teams I've ever been a part of… I'm definitely gonna miss Chuck and Gavin." 
The team has been through thick and thin together. Recently, sophomore Jah'khi Washington had surgery on his leg and therefore was not able to play in many of their most recent games.
Cole Bryant '21 also commented on how "winning this game was the best feeling because it was a true team effort, and it was so special to do it with this group of guys who are truly like a family to me." The brotherhood between all the boys ties them together so they can play their best.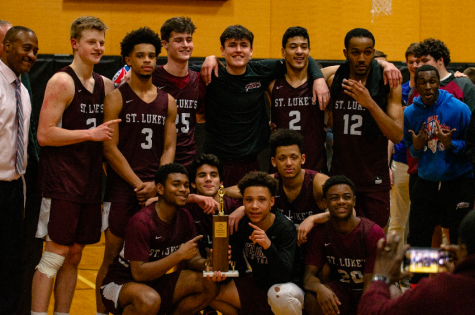 At the end of the game, the entire student section, roughly 100 people, stormed the court and surrounded the team. Everyone was jumping up and down out of pure joy, and Eye of the Storm leader and creator, Elyse Kim '21, captured the moment on camera. The celebration among players, coaches, students, parents, and teachers was most definitely memorable. The trophy ceremony was held afterwards in the gym, and all the students erupted into applause.
This championship is one of the team's many FAA League wins. It will definitely be a night to remember for St. Luke's Storm! 
Sean Clemons '22 pointed out that "now that we won the FAA championship, our next goal is to win NEPSACs." The NEPSAC tournament begins next week for boys and girls. Let's pack those stands again and blow out the competition.