Cookin' It Up in the Kitchen: Recipes from the Sentinel Staff and FLIK
Even though the COVID-19 pandemic continues to hold the SLS community in quarantine for the remainder of the school year, students, faculty, and staff have enjoyed an unexpected silver lining: free time, which many have chosen to spend in the kitchen.
While the Sentinel staff are still at home, we decided to gather our new favorite recipes and learn what new foods they have been able to cook while at home. We are sharing the recipes with the rest of the SLS community in hopes that everyone can learn something new to make and taste! Furthermore, we wanted to write an article that incorporated the entire Spring Sentinel staff. For that reason, each recipe and description is written by a Sentinel member. We hope you enjoy their favorite recipes and are able to get to know each writer a little bit better through this article! 
BREAKFAST
For the most important meal of the day, Jackson Hart '21 and Danielle Nares '21 have been making drinks that will satisfy you early in the morning before a long day of online class and home activities. 
"I'm sure you have heard of avocado toast for breakfast, but have you heard of a sweet avocado smoothie for your morning meal?" asked Danielle. "In the Philippines, the country where my family is from, it is more common to use avocados in dessert or other sweet treats. While this smoothie can be a dessert, it can also become a breakfast meal. The avocado is not only creamy, but is super filling as well. The banana will add a nice sweetness, making the drink a refreshing way to start the day." 
To make Danielle's Avocado and Banana Smoothie, you will need: 
Avocado Banana Smoothie
1 whole avocado 

1 frozen banana

1 and ¾ cup of milk 

Optional: Add honey to your liking
Directions: Add all three ingredients in a blender and blend until it's smooth. 
——————
According to Jackson Hart, "Whipped coffee is something that my mom enjoyed while on a trip to Greece, where the drink is actually called a 'frappé.' This recipe is an easier and more Americanized adaptation of the drink, but is, nevertheless, equally as good! Making whipped coffee is actually quite easy and only takes about five minutes to prepare. If you don't have instant coffee at your disposal, it's incredibly easy to purchase from Amazon. It's a delicious way to start off a long school day!"
To make Jackson's delicious and easy breakfast, you will need:
Whipped Coffee:
1 tbsp instant coffee (decaf or caffeinated – either works)

1 tbsp hot or boiling water

1 tbsp granulated sugar (add/remove according to preference)
Directions: Procure one tablespoon of boiling or hot water — any kind of water, whether straight from the tap or boiled in a kettle will suffice. Then, in a bowl or some similar vessel (a cup will even do!), add one tablespoon of instant coffee and sugar (in no particular order). Once ready, pour the tablespoon of water into the coffee-sugar mixture and swirl or mix slightly to dissolve the coffee. Using (preferably) an electric beater, whisk the coffee until it holds a peak and is light brown. Next, pour a glass of milk and scoop the whipped coffee on top; mix it into the milk if you want, but make sure to leave some foam on top to enjoy!
——————
For people who want a starchier start to their day, Abby Johnson '21 and Abby Thomas '23 have pancake and french toast recipes that will fill you with the energy you need for the day ahead. 
"Do you ever want pancakes but you don't want all the carbs and sugar that come in a box of Bisquick?" said Abby Johnson. "Try making these banana-oat pancakes! They are so easy to make and taste delicious. It's a perfect breakfast to have before your online classes or on a weekend morning."
Gluten and Sugar Free Banana-Oat Pancakes 
Ingredients: 
½ cup of almond milk (or any other milk) 

2 eggs 

1 egg white 

1 banana 

2 tablespoons of maple syrup 

1 ½ cups of rolled oats (can be gluten-free or regular oats) 

2 teaspoons baking powder 

¼-½ teaspoon salt 

Optional: 1 teaspoon vanilla 
Toppings: 
Fresh berries 

Maple syrup

Chocolate chips 

Fresh banana slices 
Directions: Pour milk, eggs, egg white, banana, maple syrup, vanilla (optional), rolled oats, baking powder, and salt into a blender; then blend until smooth. Put a skillet over medium heat. Once the skillet is warmed, spray with a non-stick cooking spray or place coconut oil or butter in the skillet. Pour pancake batter into the skillet in round circles. Cook for 2-3 minutes on one side. Turn over and cook for another 1-2 minutes. Lastly, add the toppings of your choosing once cooked. 
——————
If you're not a banana-fanatic like Abby Johnson or want more of a traditional breakfast, here is a french toast recipe that makes for the perfect breakfast treat! 
Abby Thomas said, "I have always loved french toast, and I make it many mornings for breakfast . . . the great thing is that you can even change some things to make it original. You can use your own spice combinations, and [the] toppings are up to you! Strawberries, bananas, Nutella, you name it! This is a great breakfast in bed option as well as a nice brunch meal." 
French Toast
Ingredients: (Makes 7 pieces)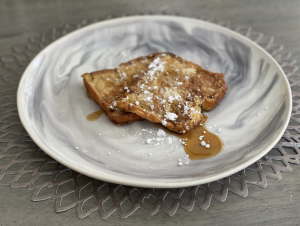 3 eggs

¼ a teaspoon of nutmeg

½ a teaspoon of cinnamon

1 tablespoon of whole milk

Brioche bread

Butter

Optional: maple syrup, powdered sugar
Directions: First, turn your stove top on medium heat. Put a tiny bit of butter on the griddle/pan to prevent the bread from sticking. Next, crack the 3 eggs into a large bowl, and mix fully. Then, add your nutmeg and cinnamon, and stir in. It is okay if the spices look like they're in clumps! After those are mixed, add your whole milk and stir that. Next, take your brioche bread, and slice pieces (as many as desired; mix makes 6-7) that are about 1 inch thick. When the griddle/pan is heated up, take a piece of bread and plop it in the mix. Move it around a tiny bit, then flip it over and do the same. Make sure all parts of the bread are covered. Put the piece on the griddle/pan and let it sit for a couple minutes — or when you think/see the egg is cooked on that side — then flip it. Repeat for as many pieces you want. When you are done, if you want to make it fancy, place the pieces on a plate, drizzle some maple syrup over it, then sprinkle a little bit of powdered sugar. Enjoy!
LUNCH
Next, Doron Loewenberg '21, Cessa Lewis '23 and Claiborne Beurle '23 shared mouth-watering recipes that will definitely make it hard to wait until lunchtime. 
For a simple yet delicious recipe, Cessa contributed a homemade hummus recipe that is "healthy, delicious, and insanely easy to make. It has the capability to make anyone feel like a big-time chef!"
Easy Homemade Hummus 
Ingredients:
One can of chickpeas (15 oz)

Lemon juice (2 tablespoons)

2 cloves of garlic

1 tablespoon olive oil

Cilantro (½ cup)

Salt and pepper to taste

Spice lover? Add some

jalapeño

 
Directions: Put all the ingredients in a food processor until it's the consistency you like. (If you like chunky hummus, mix it less, and vice versa.) Top with cilantro and/or jalapeno. Bask in the glory of your creation! 
Cessa said, "My family is obsessed with hummus! We empty shelves in grocery stores and inhale it in seconds. We realized that we were single-handedly eating all the hummus in Connecticut and decided that it was time we learned to make our own, and it's been a life-changer! We add hummus to everything. Salad dressing, sandwiches, vegetables, crackers, you name it. It's a great snack after classes or an addition to your Lunch."
——————
While Cessa made a delicious and healthy meal, Doron and Claiborne have recipes for a cheese lover to indulge in. For Doron's grilled cheese sandwich, you will need: 
Grilled Cheese Sandwich
Ingredients:
One sliced loaf of bread (or one bagel, or a bun of some sort)

One stick of butter (or margarine)

One package of sliced cheese (any cheese works as long as it's sliced. If you use shredded cheese on a grilled cheese sandwich, you deserve to be banished.)
Directions: I mean, it's grilled cheese; it's not rocket science here. Preheat your stove to whatever the 'middlest' setting is (I usually go for a five or a six if I'm feeling bold), and plop a frying pan down on it. Cut off however much butter you feel is enough to grease your pan, or however much butter you can afford without worrying about calories; go wild, I don't judge. Once the pan is sufficiently greased, take two slices out of your loaf of bread and place them in the pan. After they're in the pan, put as much cheese on one of the slices as you feel is healthy, and wait until the undersides of the bread start to brown up. Once the undersides of the bread are nice and brown, flip one slice of bread on top of the other, and remove the grilled cheese from the pan. Serve with fries or chips, and then make another one for yourself, because no matter how big the slices of bread you use, one grilled cheese is never enough.
——————
For Claiborne's tasty quesadilla, you will need: 
Cheese Quesadilla 
Any tortillas

Cheese (I usually do a Mexican blend)

Taco sauce

Pinto or black beans (you can either put these in or have them on the side)
Directions: Spray a pan that will fit your tortilla. When it has heated up, put down your tortilla and cheese (you can use as much as you'd like). Once the cheese is melted, add some taco sauce. (If you want to add the beans, you can do that when you put the taco sauce on.) Next, add a little more cheese on top of the taco sauce and flip it once the cheese is almost fully melted. Once the cheese is fully melted, you can have the quesadilla with any toppings you want.
DINNER
After you've tried these delicious breakfast and lunch recipes, we have you covered for dinner as well! Perhaps you're tired of leftovers or cereal for dinner and have some extra time on your hands to experiment with some new dinner recipes. Thankfully, the FLIK staff has shared two easy and tasty recipes for you to try at home. 
If you are a vegetarian, or are trying to eat somewhat healthy while in quarantine, here is the perfect dinner! 
Veggie Burger 
1/4 pound shiitake mushrooms

1 medium onion sliced thin

1 tablespoon olive oil

Salt and pepper 

1/2 cup lentils

1/3 cup quinoa 

6 or 7 dried porcini mushrooms 

1 teaspoon soy sauce

1 egg white beaten
Sauce: 
1/4 cup of mayo

1/4 cup of dijon mustard

1 garlic clove grated
Directions: The first step is to preheat the oven to 350 degrees. Then, start tearing the shiitake mushrooms into pieces and place onto a baking sheet with sliced onions. Toss with 1 tablespoon of olive oil and season with salt and pepper. Roast until they are tender or are just starting to brown; this will take anywhere from 30 to 35 minutes. To make the lentils and quinoa, bring a large pot of water to a boil, add the lentils, and bring to a simmer. Cook for 5 minutes and then add the quinoa and dried mushrooms. Cook for another 20 minutes or until the lentils and quinoa are fully cooked. After the lentils and quinoa are cooked, drain through a mesh strainer and remove the mushrooms from the lentils and quinoa. After doing so, in a food processor, combine the roasted shiitake and onions along with the porcinis, soy sauce, and egg white. Process until nice and smooth. Then add the cooked lentils and quinoa to the food processor and blend until smooth. To cook the burgers, heat about 1 tablespoon of oil in a skillet. While the pan is heating, form the burgers into 4 or 5 inch thin patties. After doing so, add the patties to the pan and sear on each side until nice and charred. To make the sauce, mix together the mayo, dijon mustard, and garlic. Once the burgers are fully cooked, serve on a toasted Brioche roll and spread the sauce on the bottom and top of the roll. Afterwards, add your favorite burger toppings! Don't forget to make the flavorful sauce to top it off!
——————
Are you in the mood for a nice steak dinner to kick-off the start of summer and warm weather? Here is a fun twist to a simple steak recipe. 
Skirt Steak with Asparagus and Salsa
1/2 cup plus 1 tablespoon olive oil, divided

1/2 cup cashews, coarsely chopped

1/4 cup raw pepitas

1 tablespoon black sesame seeds

2 teaspoons finely chopped garlic

1/2 teaspoon dried Mexican oregano

1 tablespoon plus 2 teaspoons finely chopped unseeded dried chipotle chile, divided

2 teaspoons kosher salt, divided, plus more to taste

1 (1 1/2-pound) skirt steak

2 pounds fresh asparagus, trimmed and cut into 1-inch pieces

Lime wedges, cilantro leaves, and cooked long-grain rice, for serving

         
Directions: Heat 6 tablespoons of oil in a medium saucepan over medium to low heat until fragrant. Add cashews, pepitas, sesame seeds, garlic, and oregano. Cook stirring often until cashews are light golden and toasted. Remove from heat; stir in 1 tablespoon chipotle and 1/2 teaspoon salt. Transfer to a small bowl. Proceed to slice steak with the grain into 3-inch-wide strips. Slice strips against the grain into thin strips. Then heat 1 tablespoon of oil in a large cast-iron skillet over high heat. Add half of the steak and sprinkle with 3/4 teaspoon salt. Cook until a crust forms, or for about 5 to 7 minutes. Flip and cook just until no longer pink. Transfer the steak to a medium bowl, and wipe the skillet clean. Repeat process using 1 tablespoon oil, remaining steak, and remaining 3/4 teaspoon salt. Wipe the skillet clean, then add the remaining 1 tablespoon oil to the skillet and heat over high. Add asparagus; cook, stirring often, until crisp-tender, about 5 minutes. Return steak and accumulated juices to skillet. Stir in remaining 2 teaspoons of chipotle chile; season with salt, if desired. Transfer steak mixture to a serving plate; top with 1/4 cup salsa. Squeeze limes over steak mixture; garnish with cilantro, and serve with rice and remaining salsa.
DESSERT
And for all of you with a sweet tooth, here are three recipes that make the perfect dessert or sweet treat to have anytime during the day! 
Here is one of Sam Bauer's favorite desserts to make. 
Coconut Macaroons:
5 cups of coconut (shredded) 

1 and ½ cups of sugar 

Pinch of salt 

4 large egg whites (lightly beaten)

1 teaspoon of vanilla extract 
Directions: Preheat the oven to 350° F and line two baking sheets with parchment paper. In a large bowl, mix the coconut, sugar, and salt. Add the egg whites and vanilla until combined. Use your hands to form the mixture into small 1 and ½ tablespoon mounds and place on the baking sheet. Bake until they turn a light golden color on top (12-15 minutes). Turn the pan halfway through to ensure they are cooked. Take them out and let them cool at room temperature!
Sam '23 shared, "When I was little, my grandmother made these macaroons when she would come over. I think that's why I'm such a big coconut fan! My family absolutely adores them. I decided to make some for my family during our time in quarantine. They turned out great! The macaroons are super easy to make, and they make 18 or more per batch. They don't take long, either, which is another plus!" 
——————
Do you have any extra bananas sitting around your house? Here is Caroline Ross' go-to dessert: banana bread! 
"I love to bake and this is one of my favorite recipes," Caroline '21 shared. "I learned about this recipe from a family friend when I was in middle school, and have made it whenever we have extra bananas around the house. It is extremely easy to make, and it is perfect for people with a sweet tooth." 
Banana Bread Recipe:
4 oz butter 

½ cup sugar 

1 and ¼ cups flour 

¾ tsp baking soda

Pinch of salt 

2 eggs 

3 over-ripe mashed bananas 

Toothpicks

OPTIONAL: Dark chocolate chips
Directions: Preheat the oven to 350° F and grease a 9×9 pan. Meanwhile, combine butter and sugar in a mixing bowl. Once well combined, add 3 eggs, one at a time, beating well after each. Peel each banana and mash with a fork. Once mashed add to the bowl and mix. In another bowl, add together the salt, flour, and baking soda, and combine. Pour into the other bowl and combine until it becomes a smooth batter. Dark Chocolate chips can be added at this time, but are optional. Bake for 35-40 minutes or until the toothpick comes out clean. 
——————
And last but not least, who doesn't love a classic cookie recipe?! However, this isn't your typical chocolate chip cookie. It's a three in one cookie with oatmeal, chocolate chips, and M&M's! 
Elyse Kim '21 said, "This is one of my absolute favorite cookie recipes. This recipe makes 4.5 dozen cookies, and believe it or not, the recipe is cut in half for this article! Because the recipe is so large, I love bringing the cookies to school to distribute during advisory and class. The dough is also easy to freeze, in case you want to save the cookies for later. These cookies do spread out on the cookie sheet, so be generous with your M&Ms and don't place the cookies too close together!" 
Oatmeal-Chocolate Chip-M&M Cookies
Ingredients:
4 oz Hershey chocolate bar

2.5 cup oatmeal (Quaker)

1 cup butter

1 cup sugar

1 cup brown sugar

2 eggs

½ tsp. vanilla 

2 cup flour

½ tsp. salt

1 tsp. baking powder

1 tsp. baking soda
Directions: Grate chocolate in a food processor. Place oatmeal in a blender and blend to fine powder. Cream butter, sugar, and brown sugar together in a bowl; then, add eggs and vanilla to the butter mixture. In a separate bowl, sift together flour, salt, baking powder, and baking soda. Combine the chocolate, oatmeal, flour, and butter mixtures together. Roll into balls and place on a cookie sheet. Press M&Ms into the cookies and bake for 10 minutes at 375°F.
"This recipe is a bit arduous, but I promise that it is worth it. Warning: keep a treadmill nearby, because you can't stop after just one!" Elyse shared. 
---
There you have it: breakfast, lunch, dinner, and dessert! Even if you aren't the greatest of cooks, we hope you will try some of these recipes during your free time with your family and friends. Who knows, maybe you will surprise yourself with your cooking skills!