Taylor Swift Gets Personal in 'Miss Americana'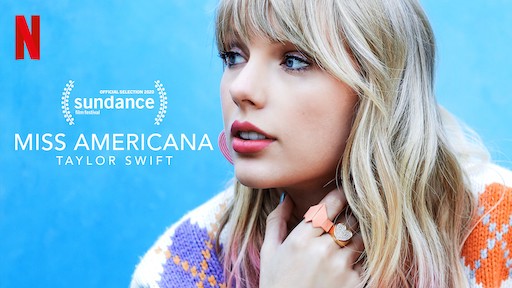 The highly anticipated release of Taylor Swift's Netflix documentary Miss Americana in December 2019 did not disappoint.
 Unlike any of Taylor Swift's past projects, Miss Americana allows you to see past her music to a raw and pure side of the mega star that has not been seen before. While Swift is known for developing a personal relationship with many of her fans, most of the interactions have been around her music, philanthropic efforts, or acts of kindness. In Miss Americana, for the first time, Swift's fans are exposed to the difficult aspects of being one of the most famous performers in the world and the personal struggles that she has experienced in recent years.
In December 2018, Taylor Swift's life seemed idyllic.  She released her first film with Netflix,  Taylor Swift Reputation Stadium Tour, where she wowed hoards of fans that filled the AT&T Stadium in Dallas, Texas, on her 'Reputation Stadium Tour.' This tour became the highest-grossing in the US, breaking her own record from her previous one, the 1989 World Tour. Miss Americana celebrates the last show in the US portion of the 'Reputation Tour' and  commemorates the everlasting memories created during Swift's incredibly successful tour. 
However, in  June of 2019, Swift faced one of the most challenging situations of her life when Scooter Braun purchased Big Machine, Swift's first record company previously owned by Scott Borchetta. This purchase gave Braun the rights and credits to Swift's first six studio albums, meaning he could decide when and where Swift's music was played. Swift's years of hard work to create and perform her own original music were ripped from her.  
In late 2019, Swift announced that her second project with Netflix was going to be a documentary.  In her announcement, Swift stated, "This isn't the way I had planned on telling [my fans] this news – Netflix has created a documentary about my life for the past few years. Scott Borchetta and Scooter Braun have now said that I am not allowed to perform my old songs on television … Scott and Scooter have declined the use of my older music or performance footage for [Miss Americana], even though there is no mention of either of them or Big Machine Records anywhere in the film." 
In other words, while Swift had hoped to create a documentary incorporating all of her music, including her earliest recordings, this was no longer a possibility for her because she does not own the rights to her own music. 'Swifties' were enraged with Braun's and Borchetta's decisions, but the exciting announcement of Taylor's new project with Netflix was a welcome distraction from this upsetting news. 
Swift gets personal in this documentary while including behind-the-scenes footage of her excruciating decision to break her silence on her political views. 
In the 2018 Midterm election, Taylor Swift publicly expressed her feelings about the Tennessee Senate race. In her social media accounts, Swift took a stand against the Republican candidate, Marsha Blackburn, as Swift opposed Blackburn's views on women's rights. In her Instagram post, Swift stated that Blackburn "voted against equal pay for women" and against "the Reauthorization of the Violence Against Women Act."  She continued that Blackburn's values "were not my [Swift's] Tennessee values" and encouraged Tennessee voters to vote for the opposing candidate. 
Swift struggled over the decision to publicly express her political views.  As a famous singer, she wants her fans to love her for her music.  However, since politics are controversial and divisive, Swift's decision to enter into the political arena made her vulnerable to criticism from fans who disagreed with her views.  Miss Americana gives us a behind-the-scenes look at the struggle that Swift went through to express her opinions.  
The documentary not only reveals the nervousness Taylor was feeling prior to the post, but also highlights the positive impact her activism had on both herself and her fans. In the documentary, Taylor shared, "I really hope it actually, actually does something… I feel 200 pounds lighter."  In Miss Americana, we see Swift's elation following her controversial announcement when she realizes that, in the 24 hours following her post, 50,000 Americans had registered to vote. Therefore, Miss Americana is not only an exploration of Swift's personal battles, but also of her far-reaching influence. 
In the documentary, Swift also opens up about her personal experiences, including her feelings about living under constant scrutiny while struggling with an eating disorder throughout her "1989 World Tour." From posing on a red carpet to walking outside of her apartment in Tribeca, Swift is constantly in the spotlight.  Swift mentions that in the past, she has had a bad habit of zooming in on paparazzi photos because of the judgment she has been getting for her weight gain. 
"I tend to get triggered by something, whether it's a picture of me where I feel like I looked like my tummy was too big … and that'll just trigger me to just starve a little bit, just stop eating," she admitted. Swift realized that she was suffering from an eating disorder towards the end of her world tour in 2015 and shared, "I thought that I was just, like, supposed to feel like I was gonna pass out at the end of a show or in the middle of it. I thought that's how it was…" 
Since Miss Americana is a current documentary from the past year of her life, we learn that Swift recovered from her eating disorder. Swift appears more confident than ever before in Miss Americana by showing that no longer pays attention to the unkind words directed at her. I strongly encourage you to watch this 85 minute film, not only learn about recent events in Taylor Swift's life, but also to learn an important lesson about overcoming struggles.  It is easy to look at a worldwide superstar like Swift and think that their life is perfect.  However, Swift's willingness to express her true self in this documentary helps us to realize that we all have insecurities and go through emotional struggles to figure out what is important in our lives.  Swift's difficult times helped her develop into becoming more self-assured than ever. Our experiences, whether positive or negative, help us grow and discover who we are.