Carrying RBG's Baton
The Feminism Club's panel on September 29th brought the SLS community together to discuss Justice Ruth Bader Ginsburg's life and legacy. Ms. Birinyi, Mr. Vehslage, and Mr. Haynes and guest speaker Lisa Frelinghuysen gave high schoolers an inside look into the feminist hero and what she would want us to keep fighting for.
On the evening of September 18, Ruth Bader Ginsburg passed away. After hearing the breaking news, I felt very unsettled and powerless. Almost immediately, President Trump posted his plan to find a new Supreme Court Justice, and it seemed as though history was being written and decisions were being made about my future without my say. Trying to make sense of a world without RBG made me feel hopeless. Ruth Bader Ginsburg was a feminist hero and a champion for women and marginalized communities in this country. Whether a barbell in her hand training at the gym or a gavel in her fist on the bench, she was a symbol of strength and a force to be reckoned with. Knowing RBG occupied one of the most powerful positions in the country gave me a sense of security because I knew she had our back. With RBG no longer in our corner, my biggest fear is that the laws she defended protecting LGBTQ rights, reproductive rights, and civil rights will be dismantled with the power shift on the Court. 
I needed to channel my anger and grief, so when Mr. Haynes reached out to the Feminism club to sponsor a panel that would make sense of what just happened, I jumped on board. It was the perfect opportunity to come together as a community, process RBG's death, and use it as a catalyst for change; it was a wake-up call that no one can be on the sidelines right now. The panel created a space for the community to come together and honor RBG as well as discuss the country's future. 
Ms. Birinyi, Mr. Vehslage, and Mr. Haynes joined the panel to help educate students. Ms. Birinyi reflected on RBG's impact on her life and poignantly remarked that the supreme court justice secured a place for working women in the U.S. RBG was top of her class at Harvard Law School and still faced tremendous obstacles finding jobs at law firms. She was rejected from every place she applied. Nevertheless, her courage and resilience in the face of injustice and adversity made her a stronger force on the highest court of the land, where she used her personal experiences to combat gender inequality in the law. Mr. Haynes walked students through the process for finding Justice Ginsburg's replacement, and Mr. Vehslage talked a little bit about Justice Ginsburg's role on the court.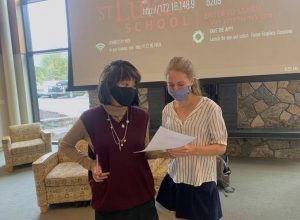 I was honored to be the moderator and listen to our special guest Lisa Beattie Frelinghuysen reflect on her time as RBG's Supreme Court Justice Clerk. Before the 1996 Supreme Court decision in which RBG argued for the majority, the Virginia Military Institute did not admit women into their programs. Instead, they created a separate but equal school for women. This inequality was due in large part to the stereotypical notions about what women could handle and what they couldn't. Frelinghuysen noted that this was not an easy case, but that did not deter Justice Ginsburg, who managed to persuade her conservative colleagues. Because of her compelling argument, the decision won a 7 to 1 majority.
Frelinghuysen also shared the story of when she and Justice Ginsburg went back to the Virginia Military Institute years after RBG's landmark case. There, they met the first-ever female cadets to attend VMI as well as the current female cadets attending the institution. This meaningful experience illustrates Ginsburg's dedication to the people she fought for.
"I raise this because in part it shows something about her personality that may have been different from some of her colleagues," Frelinghuysen said. "She cared tremendously about the Constitution and the evolving concepts of equality. That the frameworks didn't know everything back then and we are a more enlightened society. We have a better understanding of equality and we have a better understanding of we the people." 
When asked what RBG was like when she wasn't in the limelight and under scrutiny, Frelinghuysen recalled one of her fondest memories when Gloria Steinem and Ruth Bader Ginsburg, two powerful fighters for women's rights with different approaches to activism, came over for dinner during the DC March for Women's Rights. When Steinem and Frelinghuysen asked Ginsburg if she had ever been a part of a march, she said, "Well, I did twirl the baton in my high school." They laughed, knowing she reserved her activism for the court. 
 To wrap up the panel, I asked Ms. Frelinghuysen what she thinks RBG would want high schoolers to know.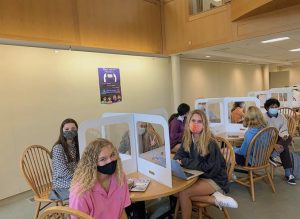 "[RBG] was a fighter. She was a fighter from as soon as she got out of school until the very end. She never stopped fighting. She would want high schoolers to recognize that the fight needs to continue," Frelinghuysen said.
Students must keep twirling RBG's baton by remaining hopeful and continuing to persevere, as RBG demonstrated time and time again. Teenagers are the next generation. This isn't just another court appointment – it's our future for decades, and something we can not take lightly. It's time for us to follow RBG's example and honor her by continuing to fight for justice and equality.