Checking In on the 2020 Alumni
With the class of 2021 going through the college process around this time, it makes you wonder what's going on with the group of seniors who graduated last year. Despite challenges caused by the pandemic, the class of 2020 has been thriving as college freshmen.
Though many of them attend their college courses virtually, some have been able to move onto campus. SLS theater legend Henry Jodka '20, who is attending Bowdoin College, said that his school "only invited the freshman class on campus for the fall semester and we took all of our classes virtually, except for the freshman writing seminar." Former prized field hockey goalie Quinn Gregorich '20 was also online for her first semester at Lafayette College but said, "I finally got to move into campus in early February, and although it's still mostly remote, I have one in-person class."
With courses being virtual, students who attend large lecture classes are at even more of a disadvantage. Former Sentinel staff member Ally Riley '20 said, "I'm in a lot of lecture classes, like 600+ kids, and so you don't get that teacher connection you get at St. Luke's. So it's kind of easy to just feel like an anomaly, like a number, and not like an actual student." Because classes have been so untraditional this year, Riley added that "it's hard to get a gauge on what the rest of my college experience will look like." 
Students have also had to deal with frequent cancellations of social events and activities. Former football captain Tank Intrieri '20 said, "My football season got cancelled, and I have been taking all my classes online from home. It also has really put a limit on how often I see my friends." 
Riley added, "All the normal social events aren't happening, so even for sororities and rushing, it's very weird because I don't necessarily have a sense of the sororities, [since] I haven't been able to meet many upperclassmen."
Although she can't have a normal college experience, former girls lacrosse captain and Service Board leader Kayleigh Bowler '20 said, "I have made so many great friends and absolutely love my campus despite our classes being fully virtual." Bowler has also had the opportunity to join an a capella group and become a member of Dartmouth's Foundations of Social Impact group on campus. 
Joining clubs or groups can ease the transition into college life, but alumni report that it's still easy to get homesick. Gregorich said, "I miss the comfort of familiarity surrounding St. Luke's. I was a student there for all eight years, so it felt like home to me, and it's such a nice feeling when you know everyone you see." 
Attending college is an entirely different experience to being at St. Luke's. St. Luke's is a very open and welcoming place, so being somewhere new can obviously be challenging. Riley shared, "I definitely miss really having relationships with my teachers, that's for sure. Feeling like my teachers knew me, feeling like they knew my name, [and] feeling like they were invested in my success and my work."
While reflecting on what they miss most about St. Luke's, these five graduates had some advice for this year's seniors:
Ally Riley: "I really think that it's so easy to compare yourself to all of your classmates… .[You] know yourself best and you're gonna end up wherever you're gonna end up. Even if it's not a perfect fit in the beginning, you can always transfer, so I think really just trying to focus on yourself, your progress, your success, and what would make you the most happy, and where you would be the best fit, is really really important." 
Henry Jodka: "I know it may be tough, but keep your head up, try to remain positive and busy…We are rapidly approaching that point! You guys are doing a great job. Be kind to yourself and others – and be open. Anything can happen!"
Kayleigh Bowler: "[This] year's college admission season is absolutely crazy, so don't take a rejection to heart. You are still amazing… [and] try to enjoy the end of your year! While keeping safety in mind, enjoy the time you have with your classmates because you are going to miss them soon!"
Tank Intrieri: "Honestly, I would tell this year's seniors to not give up. I know everything sucks right now, but there's a light at the end of the tunnel. As far as navigating senior year with COVID, just be smart and wear a mask. Your choices affect more people than you realize."
Quinn Gregorich: "I can't pretend to understand what this year's seniors are going through, given the highly unusual circumstances brought on by the pandemic adding to the usual stress of the college process, but I think that everyone could stand to use a friendly reminder that we can't worry about the things we can't control, and that nobody else knows what they're doing either. At the end of the day, our best is all we can do, so I hope they remember to just be gentle and kind with themselves and to others!"
The class of 2020 had a very odd beginning to their college experience, but they have prevailed. While keeping a positive attitude and taking it one day at a time, they've found ways to enjoy their new communities. As Jodka concluded, "Get ready for the next Roaring 20's… it's right around the corner – we can all get through this together, and the next couple of years are going to be so much better!"
About the Writer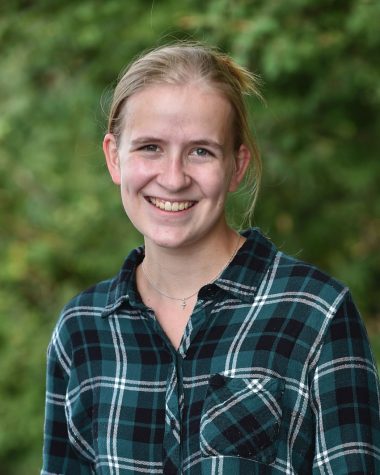 Abby Thomas '23, Sports Editor
Abby Thomas is a sophomore and has been a part of The Sentinel for a year. She is the Sports Editor and plans on continuing writing for The Sentinel in...