World Language Week – The Future's So Bright!
With everything going on in the world, the SLS World Language Department chose the theme of "The future's so bright, you gotta wear shades" for our 2021 World Language Week.
One of the most beloved traditions at St. Luke's begins when you enter school in the morning and go downstairs to the Commons to see posters and flags of every color hanging on the walls and from the ceilings. There's a stage set up with streamers behind it, and trivia games set up in the Fireplace Commons. Everyone's excited for the upcoming all-school musical event. There's a buzz in the air, and the World Language Department is dressed up in costumes from every era. It's none other than the incomparable World Language Week! 
World Language Week has been a St. Luke's tradition for over two decades, and every year, students and teachers alike prepare songs and activities and get ready to celebrate. The theme for our 2021 World Language Week is "The future's so bright, you gotta wear shades." This year is going to look different than previous years due to the pandemic, but the language department has worked incredibly hard to put on a memorable World Language Week despite the challenges.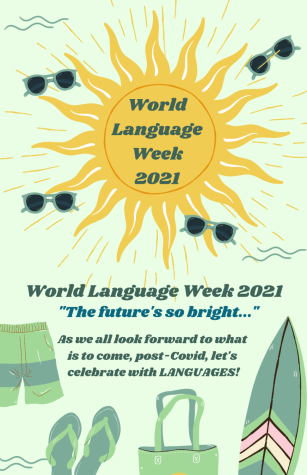 Because COVID places limits on what our school can do to celebrate, Middle School World Language Department Chair and Spanish and French teacher Mrs. Sarrazin said, "We thought about travel, eating together, anything that falls into that theme [of the future's so bright] that we haven't been able to do. So each of the teachers [are] working with their classes to showcase what that means to them." In the front lobby, each language class level is going to have a giant 40×20 inch panel showcasing posters about what each student is looking forward to in the future, all written in different world languages.
In order to have a successful World Language Week this year, we have to adapt to these new circumstances. Upper School World Language Department Chair and French teacher Mr. Shee said, "We came up with some ideas to do our typical lunch time activity fun when everyone's free, and to try to bring people together in this separated time… Whenever we can do an activity outside, we have chairs and tables that are all going to be right under the portico, and we'll just bring them outside." 
Going hand-in-hand with the theme of this year, the language teachers will have a special treat for all who participate. Mrs. Sarrazin said, "When you come in and visit our displays,…we actually have sunglasses that we have made for everyone. With 'SLS World Language Week' on one side and 'the future's so bright' on the other side… And [all the students will wear them] through the day, to remind us that the future is so bright. We've got to look at the positive things…going forward."
When thinking about how special World Language Week is at St. Luke's, Mr. Shee said, "Places like St. Luke's have fabulous traditions while also always moving forward. I think that's one of the nice balances of working at a school like this. We're not ensconced so completely in tradition that it stops us from growing. World Language Week is the perfect example of that… And so the fun part is that we do some things that [the] kids love. Like [the] coffee house for example… that little tradition of kids getting up and singing in foreign languages cause they love it, that's a world language teacher's dream." 
Mrs. Sarrazin also loves the coffee house: "the coffee house is definitely awesome [because] we get to just enjoy the moment together. Just sing and dance and be happy together… The process of creating things with the students is also very exciting for me. The process of getting to… the culminating event."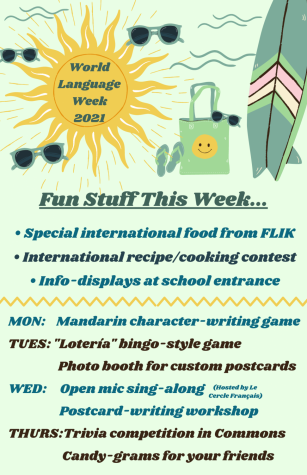 When asked what world language means to her, Mrs. Sarrazin said, "It goes back to that passion… Seeing language [and] culture all tied together. Seeing it as more than just another class that you have to take. We always, no matter what subject you teach, [want to] pass on that love. But for world language, it's being able to take the passion outside of the classroom and putting it out there. It doesn't matter what language you learn, what culture you want to learn about, just be interested in something. And that, for me, is a great opportunity to open doors for students that haven't had that opportunity to experience that." 
Language has a way of affecting us all, and it is also a huge part of life at St. Luke's. Mrs. Sarrazin said, "Just why do we do [World Language Week], right? It's not to add more work to our plate, but it's just to pass that along, that love of languages and culture." 
Upper School French teacher Mr. Downey also added his hopes for World Language Week, which is "Just to play with language… That's why I love what we do. And it's just another excuse to do that and do it with the kids. To have both to look forward to a better moment that's coming, kind of celebrate that… There just seems to be such joy in that. That's what I'm really excited about… just having fun with language, that's what it's all about."