How the Building for Nonprofits Club Upgraded Filling in the Blanks
St. Luke's is home to dozens of clubs that are run through the Center For Leadership. One of the many clubs that excel at community outreach and service, is the Building For Nonprofits club, created by Dean Ambrose '23. The club aids nonprofits in their efforts by offering to build anything to improve their work.
Over the summer, Ambrose reached out to many nonprofits to explain the club's mission and identify needs with which he could help. Filling in the Blanks, a Fairfield County-based organization, responded that they need a new desk for their warehouse. Ambrose and the club were ecstatic to hear that, and began working on a new and improved desk!
Ambrose spoke to the organization's co-founder and SLS parent Tina Kramer about design options and characteristics for the new desk. He detailed his process: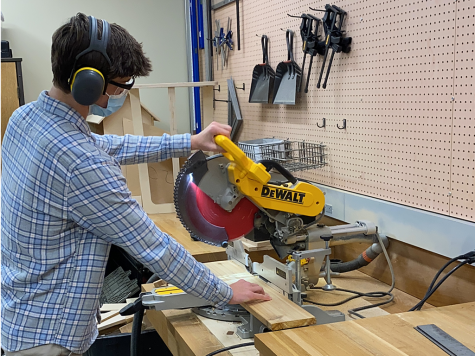 "After taking many measurements and photographs of the area we had to work within, I then created a 3D sketch on Onshape, a 3D design software, of a desk that I thought would work well. I sent it to Filling in the Blanks so they could see what I had in mind. After a few modifications, the desk's design was finalized, and we were able to begin production."
Tina Kramer and Shawnee Knight, the other Co-Founder of Filling In The Blanks, said, "Our volunteers are the backbone of FITB, and when Dean approached FITB, we knew immediately that we would like a volunteer station to be built. Through a collaborative effort with our volunteer coordinator Michele Casey, Dean brought our ideas to life, allowing for a place where volunteers could check in at a computer kiosk, a place to house all of our forms, masks, gloves, first aid kits, and drinks for volunteers."
There are challenges that come with woodworking projects. Ambrose mentioned that the hardest thing to do as a woodworker is fixing or covering up your mistakes. He said, "The best woodworkers are able to cover up their accidents so well that you can not even see what went wrong." He and the rest of the club strive to be the best they can be in all their projects.
When working on the desk, the biggest challenge they faced was that the wood was bending. Ambrose said, "The wood was warping due to the air moisture, so we had to learn ways to support the wood to make it… straight."
The Club appreciated the work they were doing and even learned some new techniques. Ambrose said, "The most interesting part of building the desk was appreciating all of the unnoticed details and add-ons that go into making an aesthetic desk."
Through building the desk for Filling In The Blanks, he and the club learned about edge banding: "We learned that [edge banding] covers up the rough ends of the wood that would otherwise be visible from the front of the desk. Countersinking the screws and using wood putty to cover the holes is another overlooked detail that takes time and effort. Without edge banding and wood putty, every desk would look unfinished with a raw look to the wood edges and unsightly screw heads."
In total, Ambrose and the club spent over 100 hours working on the new desk. Since woodworking is such a big-time commitment, it is important that they have motivation to work. Ambrose feels inspired by his love of woodworking and "seeing a difficult project become a completed one." He added, "It also feels good to do community service and help others. Hearing the other club members say that they enjoy coming to this club keeps me motivated to plan out future projects so we can be productive, have fun, and help local non-profit organizations."
Not only was receiving the desk a big win for Filling In The Blanks, but Ambrose and the Building For Nonprofits Club had a truly positive and enlightening experience throughout the building process.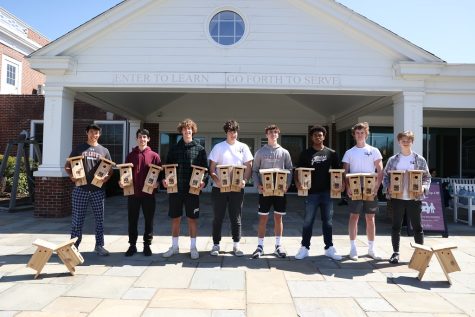 Kramer and Knight said, "It was a pleasure working with Dean and his team, and we look forward to seeing future projects that the club creates."
More recently, the club just finished a set of 20 birdhouses that they built for the Darien Land Trust. Their next project will be building picnic tables for the Boys and Girls Club of Ridgefield. There is no doubt that this remarkable club will have even more valuable and rewarding projects ahead of them!
Ambrose and the club were also featured in a newspaper article in Norwalk's The Hour.