Perfectionism: The Enemy of Creativity 
"The fatal problem with poetry: poems," says poet Ben Lerner in The Hatred of Poetry.  In this paradox, he encapsulates what it means to be a poet, an artist, and a human.  His critical essay hinges on the impossibility of writing poetry.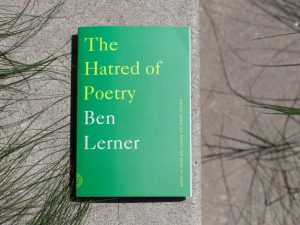 No art form is more detested, and even the poets loathe it.  Lerner admits that he relates to the haters.  Quoting Marianne Moore, Lerner writes, "I, too, dislike it."  Instead of devoting the volume to a passionate defense of poetry, Lerner explores the reasons why it is not a fan favorite.  
Lerner argues that readers tend to hate poetry because they expect too much from it.  Readers want poetry to radically elicit political change, and it does not.  They desire an escape from materialistic society, and poetry does not not provide for one.  Thereby, the poet is "a tragic figure," and every poem is "always a record of failure."  
Poets also hold themselves to a high standard that is virtually impossible to reach, and thus they are never satisfied with their poem.  Lerner references Plato's Platonic Ideal of Perfection.  In theory, perfection cannot exist in the physical world, only in the realm of thought.  Poets have an excellent idea in their subconscious, but they can never perfectly replicate it on paper.  
Reading and writing poetry arise from the desire to go "beyond the finite and the historical" and "reach the transcendent or divine."  By virtue of this yearn for perfection – the unattainable – "poetry isn't hard, it's impossible."   
When discussing the Hatred of Poetry in class, I realized that my grandfather Stanley Lewis also confronts the same core issues as Lerner.  My grandfather always hypes up my artwork – despite my lack of artistic talent – but never shares the same enthusiasm for his own pieces.  
My grandfather is a remarkable artist, and his paintings center around ordinary life and landscapes.  He tries to capture the movement of the world; however, the scenery is eternally changing.  If you focus on a tree, everything else moves to the backdrop and fades.  Then, when you go to paint a bush in the background, the front objects become hazy and the movement shifts.  
Lewis said, "The harder you concentrate, the more treacherous it becomes."
My grandfather is known for his untamed and wild techniques.  He applies acrylic paints to vast canvases, making his paintings layered and textured.  Seeing as he persistently works to express movement in landscapes, it is not uncommon for him to cut apart a painting and reposition the pieces, inserting a strip of canvas in the space between two sections or adding a new layer.  If you look closely, staples and seams are typically embedded within the layer of paint.
Lewis's ability to transition from abstract brushstrokes to details is magical.  The painter Ruth Miller said, "When thinking about Stanley Lewis's remarkable work, many words rush in: passionate, unrelenting, obsessive, brave, true, generous, mad, visionary. But his work is also about the hard won image, about detail and layering, loving attention, special volumes, formal concerns, dogged devotion, about the concrete and about process."  
Lewis shares similar challenges and aspirations as Lerner.  Lewis can not articulate what he sees in the painting, and Lerner can not articulate what he genuinely feels in the poem.  Thus, the art and the poem are never completely satisfying because it feels incomplete to them.   
While it often feels impossible to perfectly paint the world, in all its real and abstract elements, art is my grandfather's passion.  He said, "You hate it [art] because you can't do it well, but you secretly like doing it." 
Even though Lewis exposes his beautiful art to the world, there are complex internal struggles that go unnoticed.  The Hatred of Poetry helped me understand my grandfather in a new way.  
Lewis is currently represented by the Betty Cuningham Gallery.  His collection is called Painting and Works on Paper.  In the brochure for the gallery, my grandfather wrote, "To Ale, don't forget that you can always decide to be an artist, a painter, or a sculptor – love grandpa."  
Whether or not I follow my grandfather's advice and become an artist, I will work on embracing a new outlook on life that is geared toward self-improvement not perfection.  Trying to maintain a positive and accepting attitude will create room for growth and contentment, even if the final product is not exactly what I envisioned.