Girls Who Green the World: Save the Planet One Step at a Time
On June 1, I went to the monthly LiveGirl Leadership Council meeting, and Diana Kapp attended as a guest speaker.  Kapp led us in a Power in the Pen workshop, which offers advice on how to turn meaningful topics into stories.  Kapp practices what she preaches: she incorporated her enthusiasm for environmentalism and feminism in her book Girls Who Green the World.  
Infused with hopeful and motivative energy, Girls Who Green the World is the quintessential book for environmental activists.  Kapp features the success stories of thirty-four innovative women across all occupations who fight for our future.  By highlighting revolutionaries, Kapp inspires girls to tackle the climate crisis and make a meaningful difference for the planet.  
Environmentalist Jane Fonda says "Girls Who Green the World shows how brave girls who pay attention have launched ideas and organizations that may save us all." 
Here are three examples of the cool women Kapp highlighted: 
Ann Brightman "turns byproducts into cool products."  Brightman's prototype was a homemade coffee exfoliant scrub that used coffee grounds and shea butter.  After the scrub took off, Brightman started the business UpCircle: zero waste skincare products with natural ingredients.  As a result of UpCircle, landfills have one thousand fewer tons of coffee grounds.  The objective is to "push less sustainable brands off the shelf."  
Nicole Bassett "gives clothing nine lives."  Bassett's goal was to extend products' utility for as long as possible, and she turned this goal into a reality.  Basset created The Renewal Workshop, which repairs and re-circulates retailers' scrap clothing.  Renewal Workshop "is on target to keep a million pounds of apparel and home goods out of landfills by 2025."  
Michelle Zhu and Tammy Hsu make "green" blue jeans with biotechnology.  Their business Huue is in the process of creating sustainable dyes for industries.  Their first mission is to manufacture indigo blue for denim makers.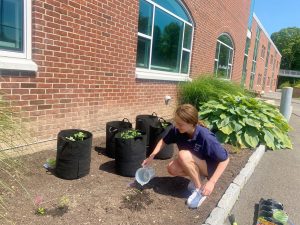 Seeing all these women confront the climate crisis head-on inspires me to pursue my passions with the same level of determination and confidence.  In Environmental Science class, we are planting a garden.  Some of the flowers we chose to plant include Goldenrods, Echinacea, and Lupine, which provide nectar for migrating butterflies and bees.  I am grateful for the opportunity to get my hands dirty and take charge in the fight for a cleaner Earth.  Girls Who Green the World is the perfect reminder that every step to reduce our carbon footprint matters.  
As Kapp said, "these women are the change.  Humanity is teetering, the time bomb is ticking, and here, finally, is hope!  Possibility!  Invention on overdrive!  Enough cleverness and smart science to fill a big, fat book."