Let's Get Riled Up for the Fall Sports Season!
Sports on the Hilltop are back, and the spirit is tenfold! Since the start of preseason on August 22, the teams have been enthusiastically practicing for another successful fall season. As games continue in full swing, the varsity team captains offer insight into the fall sports season.
So far, the teams are thriving, which is reflected in the stellar game results. Cross country captain Kaan Savasoglu '23 discusses the outcome of their second race, stating, "The race went well! Everyone did really well and started in a good spot for the season." Their win does not stop with game scores. The cross country team's success is also visible in their team dynamic. 
The runners enjoy fun team bonding experiences, like the "weekly gelato runs where [they] run from school to Gelatissimo in New Canaan." This run is not for the faint of heart; Gelatissimo is a three mile run from campus. This activity is not only a fantastic idea for team bonding, but it also shows the drive, determination, and unity that the cross country team has.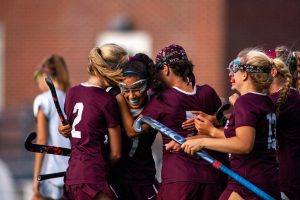 Having unity within a sports team both on and off the field is incredibly important. The Girls Varsity field hockey team incorporates this idea on the field with their multitude of traditions done before a game. Cessa Lewis '23, a field hockey varsity captain states, "We print out sheets of paper with quotes on them for each player, and we read aloud the quote before we go onto the field." This ritual demonstrates and fosters a tight-knit team spirit.
Despite not winning all their games, the team's unity shines through, and they are ready to do whatever it takes to improve. Lewis stated: "Every game we've gotten better! We're learning to trust ourselves and others more." The aspect of trust plays a significant role in making a successful team because it strengthens communication on and off the field.
Despite every team's hard work and dedication on the playing field, the student body has not reciprocated the same energy. This year, there has been quite a lack of school spirit. Spirit on and off the field helps to facilitate a motivated environment. The field hockey team, in regards to student turnout, described it as "Not great. We could use more students for sure! Bring that Storm energy!" 
This lack of support creates lonely circumstances for the teams, isolating them from really feeling the 'Storm Spirit.' Kaan Savasoglu follows up on this by stating, "No one really pays attention to cross country anyways." 
So, what can St. Luke's do in order to improve student body turnout? A field hockey captain proposes the refreshing idea that "[i]t should be mandatory for every varsity team to watch at least one game of all the other varsity teams." Encouraging and uplifting the SLS athletes is essential because spirit on and off the field helps facilitate a motivated environment.  
This idea has been positively received by many, and it is a good proposal to increase student participation. St. Luke's Storm Zone provides game calendars, so visit the website and come out and support the St. Luke's teams. Go Storm!