Introducing Dr. Rein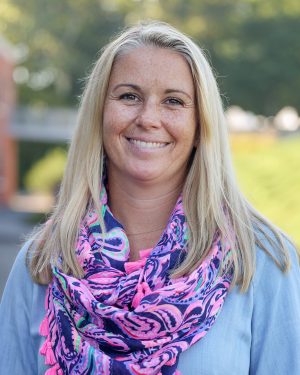 Last fall, Dr. Stephanie Rein joined the St. Luke's community. She is the Learning Specialist in ESS for fifth, seventh, ninth, and eleventh-graders, and thus spends most of her day in one-on-one meetings, helping students with their executive functioning, study skills, test-taking strategies, papers, long-term projects, and more. Dr. Rein also meets with faculty members to help them better support students. 
Dr. Rein was influenced to pursue education by her high school choir teacher. In high school, she played soccer in the Olympic Development Program, where "the best athletes in the state make a team… go to regional camp… [join] the national team, and eventually [go] to the Olympics." Because of the sheer impressiveness of the program, many people looked at it as the sole piece of her identity. This changed when she took up choir, as Rein explained, "My Choir teacher took an interest in me beyond what everyone else knew of and pushed and inspired me to look outside of what I currently was and really challenge myself to be more."
In college, Dr. Rein kept this teacher in mind, pursuing a field in which she could have a similar role in students' lives. Rein further felt motivated to pursue a career in education, saying, "It is interesting how people treat you when you have a talent. They don't see the whole you, so that is another thing I try to do with all of the people I work with. I really try to see the whole them." 
Nine years ago, Dr. Rein had premature twins,  so she stopped working for six years to take care of them. Once they got into kindergarten and no longer needed the same level of support, she started working as a professor while earning her doctorate in Educational Leadership. In addition to her doctorate, Rein earned a Masters in both Elementary Education and Special Education. 
Dr. Rein's dissertation was on the impact of parenting practices on children's academic outcomes. She used the research done by Harvard's Dr. Ronald Fergerson to create a survey for parents to quantify his qualitative data. Dr. Fergerson served on her dissertation committee.
 "Getting a Doctorate is more of an exercise in perseverance than it is brainpower; It is more about being organized and persisting when something doesn't go your way than it is about how smart you are," said Dr. Rein when she was speaking on the process of earning an Ed.D.
After graduating with her doctorate, Dr. Rein was going to seek a career in professorship but realized she missed working with younger students. Additionally, she wanted to work in the private school sector because it is where she started her career and preferred the freedom one has at an independent school. 
Dr. Rein was drawn to St. Luke's specifically because of the culture. She said, "When I visited St. Luke's, I knew it was the place for me. The student who did my tour was amazing, all eight of my interviewers were amazing, and every single person that I met with I would want to work with." 
Dr. Rein has many interests, one of which is parenting because of the impact it has on students and because she has her own children. Additionally, she is interested in brain function, the science behind why students learn the way they do, and how to utilize scientific-based research to improve student learning. "A lot of what we do in the classroom are things we have been doing for so long even though we have new science coming out saying to do it differently," said Rein.
Dr. Rein further elaborated on her interests in the field, saying, "Science of reading in particular is what I have been focusing on in the past year and a half. I am trying to figure out the neurological backbone of why some kids can read and some kids can't, why some methodologies work and why others don't. The whole neuroscience part of education is relatively new."
Outside of education, Dr. Rein has plenty of other hobbies and passions. One thing she is specifically known for is her shoe collection: "I love a good classic yet different shoe. None of them are crazy but they are all different in terms of colors and metallics," said Rein. Additionally, she enjoys playing golf and tennis, and can often be found at the hockey rink with her son or the softball field with her daughter.