Turning Point For Women's Basketball: Caitlin Clark Scores Unprecedented Media Coverage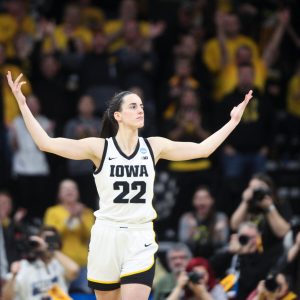 In the 2023 March Madness Tournament, Iowa's Caitlin Clark sparked a turning point. With menacing 3-pointers and unstoppable assists, scoring 41 points against Louisville and South Carolina, Clark brought long-overdue and much-deserved attention to women's basketball.
Honestly, I had never been much of a basketball fan. On March 18th, I watched the New York Knicks play the Denver Nuggets, and I thought the SLS Girl's Varsity Basketball games were more exciting.
My attitude around basketball changed this week. For the first time, I started to see highlight videos of women's basketball on social media. When I watched clips of Clark's superhuman shots, and the comment section brimmed with uplifting messages and not the usual degrading remarks about female athletes, I was determined to watch Clark in the final four. 
In The New York Times, Kurt Streeter writes, "After finally beginning to have their tournament games broadcast and streamed as artfully as their male counterparts, the popularity of women's college basketball is surging."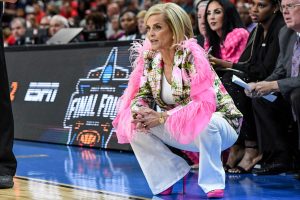 My excitement for the finals only increased. In the days leading up to the finals, platforms like ESPN and Just Women's Sports posted videos showcasing the fiery and passionate Louisiana State coach Kim Mulkey.
Mulkey gained a lot of traction for her amazing fashion statements, but her contributions to women's basketball goes way back. Mulkey became the first person in NCAA history to win a national championship as a player, assistant coach, and head coach.
The recognition and media attention for the NCAA is up, and thus so are the broadcast ratings, game attendance, and revenue.
Streeter writes, "Iowa's regional final with Louisville collected an eye-popping 2.49 million viewers, larger than any of this season's N.B.A. games on ESPN. The audience for round of 16 games rose 73 percent compared to last season and set a record for total minutes watched."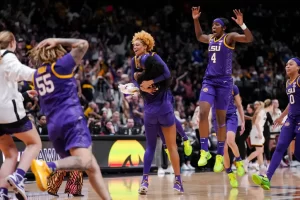 From Clark's go-to center Monika Czinano, to the Tigers' unstoppable forward Angel Reese and Jasmine Carson, who made all five of her 3-point shots in the half, the NIH players have much to offer.
Women's basketball players have always been incredibly skilled, but now their skill is receiving national attention.
In 2019, USC/Purdue University published a study that revealed "95% of total television coverage as well as the ESPN highlights show SportsCenter focused on men's sports."
Clark's stardom reflects the shift in popularity of women's sports. By increasing the media coverage of women's sports and spotlighting their impressive accomplishments, the fanbase and the profits will grow. 
Purdue professor Cheryl Cooky said, "This isn't just a moment… It's more than that. It's the cumulative effect of a decades-long struggle for equality and recognition. We're at this kind of tipping point of a new era, and the momentum is so great that it cannot be stopped.