Ethan Crawford '23: How He Made Every Game Count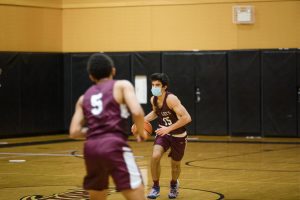 In January 2020, I interviewed a few members of the Boys Varsity Basketball team about their outlook and hopes for the season. At the time, Ethan Crawford '23 was a freshman. Now Crawford is a senior who just played his last season with St. Luke's. Four seasons ago, I asked Crawford, 'How are you going to make every game count?'… Now let's see if he did.
Crawford began his high school career as the only freshman on the Varsity team. He reflected on our past interview, reminiscing about the excitement of being the team's only 'Class of 2023.' That said, he shared, this time around, that he would not have wanted to be the only senior. He played alongside Thomas Durvasula '23, Mason Pratt '23, and Harrison Bennett '23.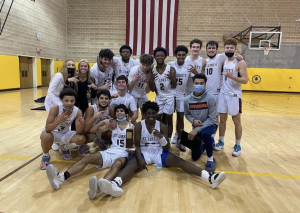 Crawford went on to give accolades to his fellow seniors:
"I'm really proud of Durv…. He always wanted to compete, and I love that about Durv. He's always been competitive, so I'm really happy for him."
"Anybody [who] knows Mason knows what he's about. He's just strong-minded, he'll come at anybody no matter what, and he's physical…. He puts the team before himself at all times."
"We loved [Harrison this year]. He…. [made] serious contributions which was fun!….  The energy he gave in practice every day was amazing."
Crawford also praised his coaches for all they've done for him during his time at St. Luke's, saying "[Coach] Newsom is probably the best basketball coach I ever had…. And [Coach] Weilan and [Coach] Downey are just funny guys and know what they're talking about too, [and] they're so fun in practice."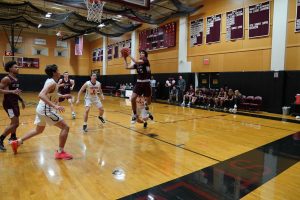 The feeling is mutual, as Crawford's contributions to the team over the years have not gone unnoticed by Coach Newsom, who shared:
"Coaching Ethan for the last five years has been a pleasure. He's an outstanding student-athlete with a terrific work ethic. He's been the captain of our program over the previous two seasons, which speaks volumes about his leadership. Ethan has left his mark on our basketball program with two championships and All-NEPSAC honors. He's a winner both on and off the court!"
Crawford went on to speak about his excitement for this year's freshmen and the rest of the team. Despite the grade differences, the team is super close-knit, which has rung true since the first time I interviewed him.
Three years ago, he said, "It's like you don't have to be friends with them off the court; on the court, stuff happens that brings you guys together."
In agreement with his freshman response, Crawford said, "No matter what grade you're in, no matter if you have classes together, no matter what your friend group is, you're just brothers when you go through a season." He added, "I get the same amount of joy from getting a highlight assist [as I do] from getting a highlight basket."
He said, "It's kind of just a big friend group playing basketball!"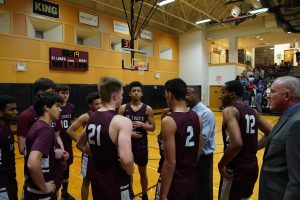 Back in 2020, in addition to Crawford, I spoke to the team's captains, Chuck Clemons '20 and Gavin Greene '20. At the time, Crawford was the one looking up to them, but this year he took on the role of senior captain.
He said, "I think one thing that's evolved a lot is [that] I went from the young, inexperienced guy who was being taught by the seniors to being the senior who's teaching the younger guys…. I could really see the different aspects of being a leader versus being somebody who's being led."
I brought up the fact that this year's freshman looked up to Crawford in the same way he looked up to Clemons and Greene. He said,"It's really cool to think about it when you put it that way. I haven't thought about it that way before… The freshmen probably view me as I viewed Chuck and Gavin, which is really cool to think about because I looked up to them a lot."
When Crawford was a freshman, Clemons taught him that the most difficult part about being a captain is that not everyone is going to like you all the time. He said, "I remember multiple times I was like 'Chuck, please just shut up, let me do my own thing,' but now that I'm a senior… I see what he was trying to get at, and I understand it now."
Crawford also spoke on the ability of the team's brotherhood to fuel him and the team in important games – especially rival games.
The team's biggest rivals over the years have been GFA and Brunswick, and each game has been a battle. Crawford looks back on these games with a strong appreciation for the talent and energy each team brought to the court, as well as the crowd's energy. He wrapped it up by saying, "I hated those teams in the moment, but I'll always appreciate playing against [them]."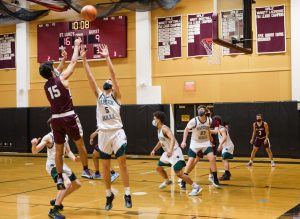 He looked back on his whole St. Luke's experience, saying "It just goes by so quickly…. Everybody was always telling me that when I was in 8th grade and a freshman, but it goes by quicker than anybody told me. It feels weird… It does not feel like I've been here for five years."
He said, "I think freshman me would be happy about what I accomplished…. the way I competed…. [and] proud of the resilience it took to get to this point and to have a great senior year." He ended the season by receiving All-FAA 1st Team and All-NEPSAC honors.
Crawford is also proud of the way the team performed this year. He said, "A lot of people wrote us off [last] year, and we won the championship, which was great. This year a lot of people didn't think we would compete, and I think anybody who was at the Brunswick semi-final game knows we were right there with them."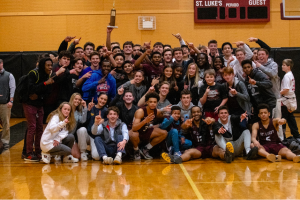 Looking back, Crawford said he will miss "walking out of the locker room during a big game." He said, "I think basketball has a unique ability, since the crowd is so close to you…. to just run your adrenaline through the roof."
Before leaving the team, Crawford has one last piece of advice for the returning players: "Emphasize becoming a close team every year, because once you reach a certain level of unity as a team, the season becomes fun…. In close games, the team that is more together usually wins."
Crawford is planning on joining a basketball club team in college, as he recently decided he'll be attending Indiana University. He said, "Basketball has been a huge part of my identity since I was five years old, and I'm not ready to let that go yet. Maybe when I get to 40 years old or 50 I will…. Definitely wherever I go [for college,] I'm gonna be playing basketball, that's for sure."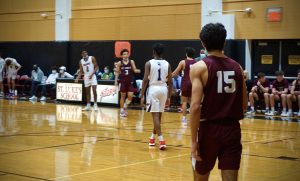 I have had the privilege of getting to watch Crawford grow over the years as well as becoming closer friends with him. In reflecting back on our first interview on that cold January, pre-COVID, afternoon, I am able to see the ways in which we have both evolved, him as a player and me as a writer/interviewer, throughout our high school years. The future is unknown and exciting for us, but there is a beauty to looking back on the past and grounding ourselves in the experiences that brought us to where we are today.