Manager Spotlight: Meet the People Who Carried Your Favorite Teams Through the Winter Season
When thinking back to your favorite moment from the St. Luke's Storm winter season, you might recall a player's winning three-point shot or a buzzer-beating goal. But standing in the background of that triumphant moment is a crew of student managers who are committed to their favorite team for the winter season. 
Many of the students I interviewed for this article found themselves becoming managers for different reasons. Veteran managers Milly Greenwald '23 and Abby Thomas '23 have been in various team roles since their sophomore year. Greenwald was encouraged by a peer to join the Varsity Boy's Basketball management team. On the other hand, Thomas joined the Varsity Football management team and recently took on the Varsity Girl's Basketball team.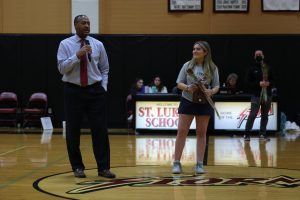 From all of the students with whom I spoke, I learned that being a manager is an incredibly rewarding experience. "I love getting to bond with the players," Greenwald said. "[The] highlight of this year was connecting with freshman Peter Uzgiris. He's a gem." 
Managers also find themselves carrying the team's digital footprint. For Sofia Staikos '24, running the Varsity Boy's Hockey team's Instagram account was a highlight. "I love being able to post stories on game days," Staikos said, "[and] also spending time in the penalty box with my fellow manager Leslie (Owens '24), Ms. Nicole, Mr. Lebris, and uninvited guests (players who get penalties)." 
Managers find a great social scene on the team and join in on the camaraderie. Greenwald said, "I secretly love when players are injured and they have to sit on the bench and gossip with me the whole practice." For Varsity Girl's Basketball manager Ale Lewis '23, "the best gossiping is found with Mr. Ward."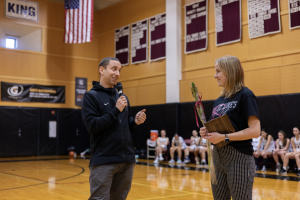 Many of the basketball team managers found themselves enjoying quality time with the team outside of normal practice hours. Thomas jumped at the opportunity to join the Girl's Varsity Basketball team on an overnight trip during Winter Break. Looking back, Thomas said, "I found those two days really special because I had a lot of responsibility being the only manager, and I came out of it feeling like I was really a part of the team." Fellow basketball manager Lewis took on the duty of attending morning practices. Managers really do get to experience everything that is great about being on the team.
One difficult aspect of being on a St. Luke's team is the nail-biting stress of an injury or close game. "The most stressful moment of the season was SLSPUCK's first matchup with King," said Sofia Staikos. "We were only up by one and there was one minute left in the game." 
After reading this article, you might be eager to sign up for a managing role next year. Managers from this past year have some encouraging words of advice: "Become best friends with the coach," said Amelia Greenwald. "It really makes all the difference." 
Lilliana Finn '26 said, "There are gonna be times where it's difficult and you don't wanna do it, but the team is depending on you, and at the end of the day it's all gonna be worth it. Being with the boys at the end of a win is a feeling like nothing else."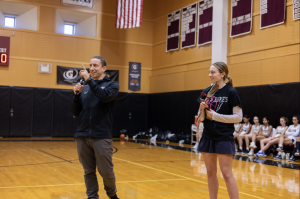 Finally, Ale Lewis spoke to the importance of commitment to the team saying, "For anyone that wants to be a manager, you're going to be treated like you're one of the players, so you should treat it like you are one. Go to all the practices you can, and go to all the games; show your support by always being involved."
Managing a sport seems to be a truly rewarding opportunity offered at St. Luke's. I suggest you give it a try if you're looking for something to do after school.