Cookies and Covid: Decisions That Have Led the SLS Chess Club Forward
The St. Luke's chess team is well-known for their energetic town meeting announcements and consistent success this year. But, has anyone really gotten to know their leader Laurel Aronian '25 and faculty advisor Mr. Hamilton?
Aronian's love for chess started with food. In elementary school, she heard about a chess team meeting where there would be chess cookies, so she went! Her parents had taught her chess simply as a fun game, but she didn't truly fall in love with the sport until she joined her school's team.
After moving to St. Luke's in 6th grade, Laurel joined the chess team and was elected president as an 8th grader. As president, Laurel loves to find opportunities for the chess team to try new things.
In 2020, all chess games and meetings were moved online due to covid-19. Although this initially seemed like a bad thing for the chess team, it actually introduced some great opportunities for the team.
For instance, they've been able to compete against a team in Kenya and grow a huge online chess league with 10 teams. For comparison, there were only about 4 teams before covid.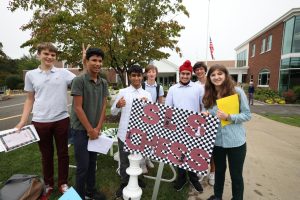 Additionally, the middle and high school teams have merged, and there has been a specific increase in middle school members. Now, the chess team has one of the  biggest groups in their history with a huge range of levels. 
Much of the chess team's growth and success stems from their advisor, the Upper School Math Teacher Mr. Hamilton. Laurel describes him as "the backbone of the chess league" who organizes matches and provides snacks. Laurel considers Mr. Hamilton to be an amazing faculty advisor who loves the game of chess. He also sends out emails, keeps everyone organized, and helps grow the program.
Mr. Hamilton's passion for chess began at the early age of 5 when his dad gave him some chess books and taught him how to play. As he became more invested in the game, Mr. Hamilton started reading the chess column in the newspaper.
In middle school, Mr. Hamilton attended a local chess club that was walking distance from his house. There, he became knowledgeable and successful in the sport.
Though  Mr. Hamilton played in chess tournaments outside of school until the age of 19, he  lost interest in college. Instead, he would play bridge with his roommate in college for fun, but it wasn't the same as chess.
After college, Mr. Hamilton took a job as a teacher at Wooster in Danbury. There, he started a chess club and cultivated their league of 10 schools for 29 years.
After coming to St. Luke's, Mr. Hamilton co-advised the chess club with Mr. Parsons. After 2 years, Mr. Parsons withdrew to take on other responsibilities, and Mr. Hamilton became the sole advisor.
Although Mr. Hamilton floated around the idea of a chess league, it never took shape until all matches moved online. This eliminated the issue of finding buses to transport students to the chess tournaments.
Despite cheating being a major concern in the new online format, Mr. Hamilton reports that there's a strict cheating policy in the league. Overall, according to both Mr. Hamilton and Laurel, the chess club has benefitted from being online.
As advisor and president, both Mr. Hamilton and Laurel love the friendly banter and fun that happens during the chess club. They both encourage any unsure students hoping to join the chess club to go for it because there are people of all levels on the team, and they are happy to teach novices at their meetings during community time on Mondays and Thursdays.