Actor, Writer, Director: Myles Sead is a Triple Threat
On April 28th and 29th, the St. Luke's Theater Company will perform The Space Between Us. Written and directed by one of St. Luke's finest, Myles Sead '23, the play will transport audience members into another world with stories spurring from the afterlife.
A Senior, Sead has a lot on his plate. From Literary Scholars, Student Council, and Black Student Union, to Equity Leadership Council and Honor Council, Sead is immersed in the SLS community. Amidst all these commitments, what inspired Sead to produce a play?
Sead said, "I had expressed my interest in writing for the Theater Company when I first joined. It was my mom's idea to mention it to Ms. Fuller, and when I did she was ready to help me out with whatever I needed."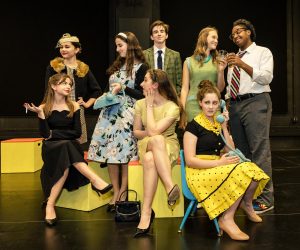 Since 11th grade, Sead has been involved in the Theater Company. In May of 2022, Sead received a Halo Awards nomination for Best Male Standout Performance in an Ensemble Production. And, Sead recently performed in the play The Best of Everything.
An experienced actor, Sead is well versed in the important aspects of a performance. That being said, it takes a brave soul to try something new. Sead said his biggest challenges were "making sure the script all connects and makes sense for the audience who will be watching it" and "giving the actors constructive feedback."
Though the play has elusive elements – set at an Ethereal bar – it is imbued with concrete, day-to-day obstacles. Sead said, "Each part of the play is a different story that represents the disconnect we see in relationships."
Sead added, "It is about the impressions we leave on people. Throughout our different relationships (family, romantic, sexual, unrequited, etc) we start to learn and adapt, to grow and change because of the people we surround ourselves with."
In comparison to the after-school plays, the Theater Company productions have more freedom to push the boundaries and dive into mature topics. Sam Bauer '23, who plays the character Sasha, explained that The Space Between Us sheds light on realistic teenage life. Bauer said, "The play is like Euphoria meets the Good Place."
Sead created original material that expands time and space dimensions, achieving a near impossible feat. Sead is most proud of his "ability to express [his] art… and come up with this strange and fun concept of a play."
Sead also gave a shout-out to his fellow actors, saying "I'm proud of the class as a whole for putting up with and supporting me throughout the short process."
I am so excited to see Sead's hard work come to fruition. Make sure to check out The Space Between Us, performing April 28th at 7pm and April 29th at 3pm.