Best Looks From This Year's MET Gala
The first Monday in May is a big deal for the world's top celebrities and fashion fans alike. May 1 marked this year's beloved MET Gala. The theme honored legendary German designer Karl Lagerfeld, dubbed "Karl Lagerfeld: A Line of Beauty." Lagerfeld was famous for frequently using a black and white color scheme as well as featuring pearls in many of his designs. Attendees channeled these themes in their looks.
As actors, singers, influencers, and models graced the carpet, I sat on my couch in a pair of baggy sweatpants admiring and judging each look. Here are my favorites: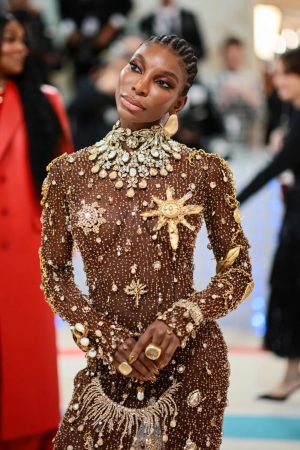 Co-chair of the 2023 Met Gala Michaela Coel stunned the crowd in a custom Schiaparelli gown adorned with gold jewels that flowed all the way to the floor. Coel topped off the look with gold heels and large gold earrings, radiating the sunshine energy that matched her dress.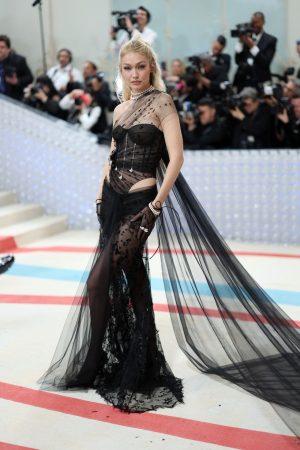 American model Gigi Hadid had all heads turned as she strutted up the staircase in a custom Givenchy black sheer gown. The dress draped over her left shoulder and continued in a striking train behind her, accented with cutouts on her hips. She embellished her look with pearls, in the form of necklaces, bracelets, and earrings.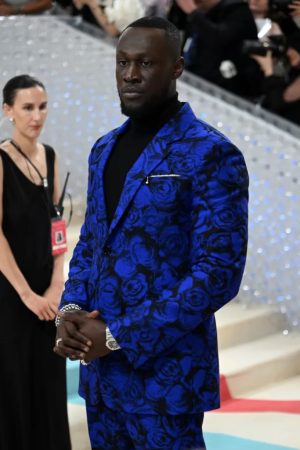 Stormzy, a British rapper, sported a black turtleneck and a bright blue Burberry suit, painted with roses. Stormzy finished off the look with a large silver ring and watch that sparkled on the carpet. He even color-coordinated his outfit with fellow international musicians Burna Boy and Skepta.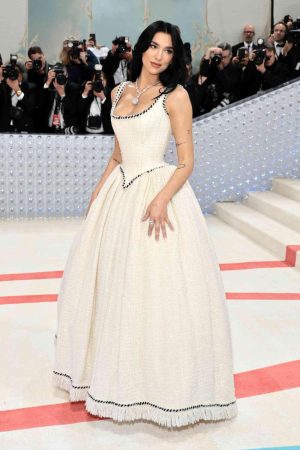 Another co-chair of the event, Dua Lipa, attended the gala in a 1992 Chanel ball gown lined with a black trim and fringe on the bottom. The gown honors Lagerfeld, as it was originally worn by his friend Claudia Schiffer and is made with his trademark fabric, tweed. In addition to her dress, Lipa donned the Lucida Star Necklace, fixed with over 100 diamonds and worth more than $10 million.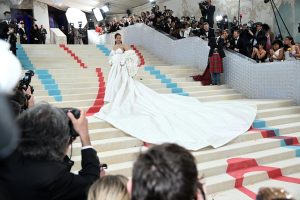 Pop star Rihanna made a fashionably late entrance with A$AP Rocky by her side. Rihanna wore an all white Valentino ensemble. She started the night covered in a bouquet-esque drape, and her train extended all the way down the stairs behind her. On her way up the stairs, she took off the drape to reveal the upper half of her dress as well as her baby bump and multiple pearl necklaces.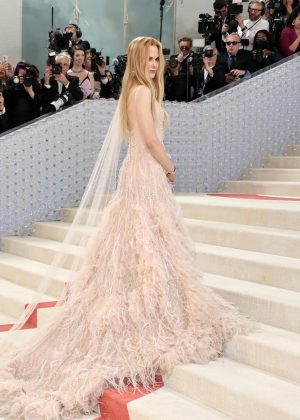 One of the first stars to arrive on the carpet, Actress Nicole Kidman emerged in a 2004 Chanel Haute Couture. This dress has met the spotlight not once but twice. She wore the same gown in a Chanel No. 5 commercial in 2004. The baby pink feathered gown had an elegant cape of its own, extending to the floor behind her.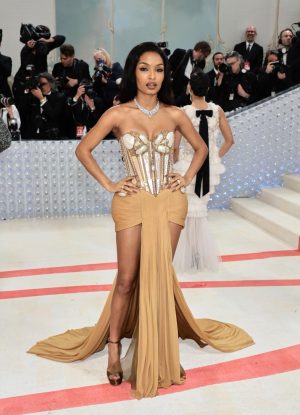 Actress Yara Shahidi blew viewers away in a bronze Jean-Paul Gaultier mermaid style gown. The corset of her dress was adorned with stones, leading down to the exaggerated pleated hips of the design. To top off the look, Shahidi wore Cartier diamonds.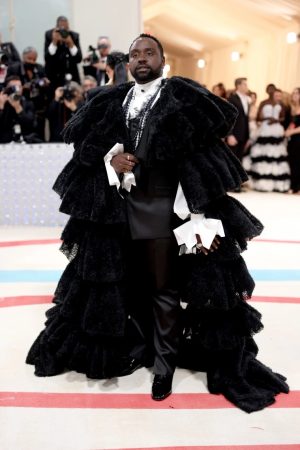 Actor Brian Tyree Henry gave a not-so-subtle nod to the gala's theme, as he showed up wearing Karl Lagerfeld. He turned away from the classic black tux, to a black and white ensemble, highlighted with large ruffles down his arms and long pearl necklaces.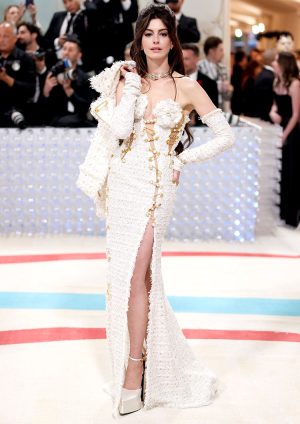 Actress Anne Hathaway lit up the carpet in a strapless tweed Versace dress. The pearly white dress featured many cutouts, held together by gold Versace safety pins and lines of pearls. She added matching gloves, a diamond choker, and platform heels, with her hair in a princess-like updo.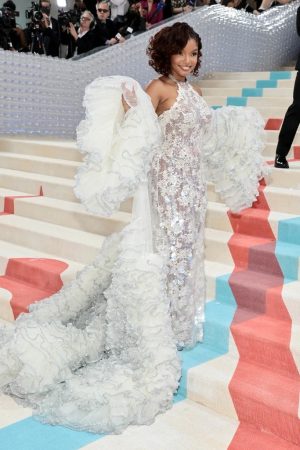 As Disney's new Little Mermaid, Singer Halle Bailey attended the gala in a mermaid-esque white halter-neck gown by Gucci. The gown sparkled under the lights and was enhanced with a coral-like pattern. To further embody the Little Mermaid, she added a ruffled, floor length cape on top of her dress, mimicking sea foam.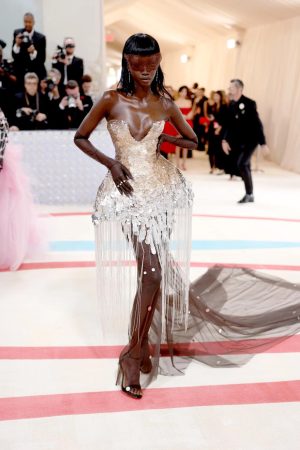 The model Anok Yai lit up the carpet in a metallic scale-like ensemble. The gold on the top of her dress faded from silver, then to white, before becoming a sheer black train behind her. Yai added an embellished transparent eye mask and sheer gloves to her look.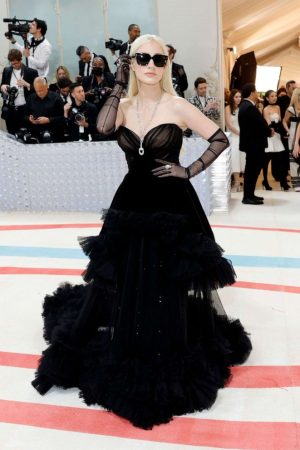 Actress and Producer Jessica Chastain slayed the carpet in a black Gucci dress accented with black sheer gloves. She added a long silver necklace to her look as well as a pair of sunglasses. But the thing that surprised viewers most was her new platinum blonde hair, replacing her iconic bright red hair.