Safety Week took place at St. Luke's for the first time ever from Sept. 18 – Sept. 22. The week consisted of activities around the school to boost students' and faculty's knowledge of safety on and off campus, coordinated by Nano Saulnier, the Director of Campus Safety and Events at St. Luke's. 
Although there is a national school safety week, it takes place in June when St. Luke's students are off campus. Having safety week at the beginning of the year allowed for new and returning students and faculty to learn more about the new and existing safety features in place for the school year ahead. 
"I thought this would be very important, especially at the beginning of the year, so everyone could get familiar with things," Saulnier said. "It's really important that we focus on safety. I don't think we have done enough of it in the past to be aware. I hope that we [the St. Luke's community] are not only doing it in the school, but everyone takes it outside in their own homes or when they are out."
Safety Week kicked off with "Coffee and Cocoa with a Cop," in which students were given the opportunity to sit down and speak with the local New Canaan police officers from 8-9 a.m. on Monday. Later in the day, there was a scavenger hunt in which advisories were tasked with locating the fire extinguishers, AEDs, emergency button, numbered doors, and more.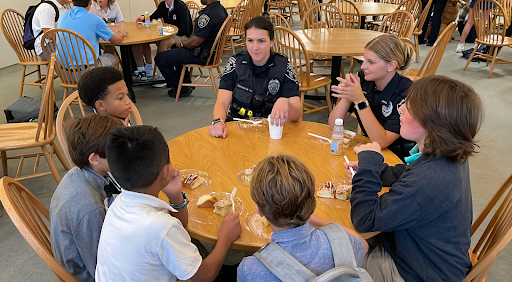 "Safety Week and the scavenger hunt were important to make students and faculty aware of where the exits, AEDs, numbered doors, and fire extinguishers are located in the school in the case of an emergency," Bella Santos, Upper School math teacher, said.  
Following the scavenger hunt, on Tuesday, during Upper School Town Meeting, Shane Gibson, a New Canaan Policeman, School Safety Resource Officer, and Liaison for St. Luke's Safety, spoke about the prevalence and importance of digital citizenship within schools and the rest of the world. 
"The presentation was a brief synopsis. We are always connected. We need to be aware of what we are putting out there and what we are receiving because it's a constant thing," Gibson said. "Kids have their phones in school and are constantly posting things and not thinking about the long-term effects. The more education you can give to students as well as adults, the better because one thing you put down can affect you later in life. Be careful what you post."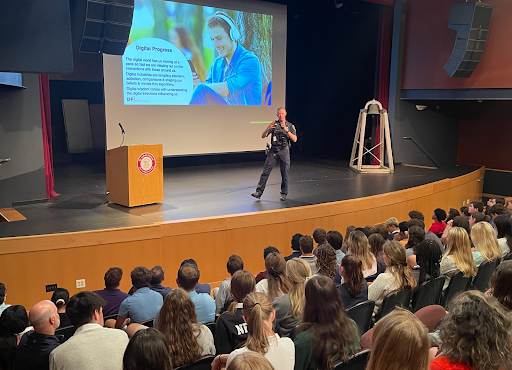 Later in the week, on Thursday, a safety Kahoot! took place during lunch. The Kahoot! tested students to see what they learned and recounted from the week. Saulnier hoped students, as well as faculty, would take away the importance of knowing your surroundings and the safety systems in place around campus. 
"Awareness is key. That you really need to understand what's going on around you. You need to make yourself safe and know that the emergency responders are there to help us and guide us," Saulnier said. 
The final activity of the week that took place on Friday was lunch with New Canaan Emergency Responders. These members included the Fire Chief, SWAT team members, EMTs and police. The lunch was an opportunity for St. Luke's students and faculty to connect and speak with local emergency service members about school safety. 
"Safety week shed light on the importance of how both students and faculty members, as well as emergency responders, have the ability to contribute to a protected environment," Sienna Pilla '24 said. 
With the increase in social media usage and possible threats around the world, the ultimate goal of Safety Week was to make students more comfortable and aware of the systems in place to keep them safe. 
In a 2023 U.S. K-12 Motorola School Safety report, survey results showed that 67% of parents and teachers are more fearful about school safety presently than they were five years ago. Despite this, 80% of teachers and 73% of parents expressed that they were confident with the effectiveness of their schools' emergency response plans. 
"If you don't drill it and practice it, when something happens, if you don't know what to do, it's going to be chaos. Everyone needs to understand their roles and responsibilities when it comes to administrators as well as students. The biggest thing for students is to know what you are supposed to do in that situation," Gibson said.  
Safety Week is just one of the many steps Saulnier and the rest of the St. Luke's Safety Team is taking to improve safety around campus. Safety Week was a success this year and will become an annual event on the Hilltop. Saulnier and the St. Luke's administration have already started brainstorming ways to improve Safety Week for next fall, such as involving the IT department in the digital citizenship presentation. 
"It's definitely going to be an annual thing," Saulnier said. "It was the first time any of our students or faculty and staff had been talked to by an actual emergency responder like Shane, who interacts with it all the time and gets calls like it all the time. I think next year there could be a more guided, better way of talking about it…We want to bring in the IT department and use Shane or any of the other officers as a resource to ask questions."
School safety guidelines and plans are constantly changing, and schools, including St. Luke's, must follow them. Involving and making students aware of the systems in place, such as during Safety Week, is one of the ways to ease the constant change for the community. 
"Know your surroundings. Situational awareness is the number one thing. Know where you are at all times, not just at St. Luke's, into the rest of the world," Gibson said. "Take a minute, look around, assess the situation. Trust your gut, but also don't let fear drive you."