New Faces: Ms. Santos
A recent college graduate, Ms. Santos has joined St. Luke's as a teaching fellow in the Upper School Mathematics Department.
Ms. Santos is a Connecticut native with roots in Brazil. She attended the Wooster School and during her time there, she had a clear idea that she wanted to major in math. Consequently, at the University of Connecticut, she studied Applied Mathematics. Now Ms. Santos teaches Geometry and Algebra with Ms. Cortes.
"I always knew that whatever I studied in college had to be math-related. It was the only subject that brought me joy," she explains.
To develop her point, she explains that in her advisory, one of her advisees was overwhelmed by her history homework and wished she had more math instead. Ms. Santos relates to that student, remembering that she was just the same way in high school: she loved how math served as a break from the rest of her work and how it was a complex, yet exciting puzzle she could solve. She credits some of her fondness for the subject to the work of her incredible math teachers, one of whom is our very own Mr. Hamilton, who taught her Geometry. (Fun fact: Mrs. Yochem was also her Biology teacher in 10th grade.)
While her decision to choose a career in education is a more recent development, she looks back and realizes that there has always been a teacher inside of her.
"Throughout high school and college, I have always tutored students from middle school math to multivariable calculus. I have always liked that aspect of helping people. In college, I also mentored those on academic probation," she explains.
During her junior and senior years of college, she realized that she was open to a career in teaching math: "My degree was in Applied Mathematics in the College of Arts and Sciences. I didn't go to the School of Education because I wasn't sure I wanted to be a teacher during my earlier years there."
Since coming to St. Luke's, Ms. Santos has found that the fellowship program here offers a perfect balance of support and freedom to teach what she loves. The fellowship program at SLS is a two-year position within an academic department that allows young individuals to gain professional experience.
She explains, "I really want to take these two years to understand teaching and to see if it is right for me. I'm the type of person who still wants to have options open."
Similarly, the mentorship integrated into the program has helped her navigate the journey from college student to full-time teacher in a new environment. She acknowledges that this transition has been challenging because she has been a student for 16 years. Not only does she receive guidance from Ms. Cortes, with whom she teaches, but all members of the math department are also there to help.
After school, Ms. Santos enjoys getting to know students through sports. She states, "I love seeing how close teachers are with students and staff. In the fall, I am an assistant coach for the Girls Varsity Soccer team. I used to play in high school, so being on the field now is rewarding and nostalgic. I do not know what I'm doing in the winter and spring, but I look forward to it!"
Her transition to SLS has been welcoming as "every single person [here] makes an effort: the students smile and say 'Hi' and teachers are always checking in on me."
About the Writer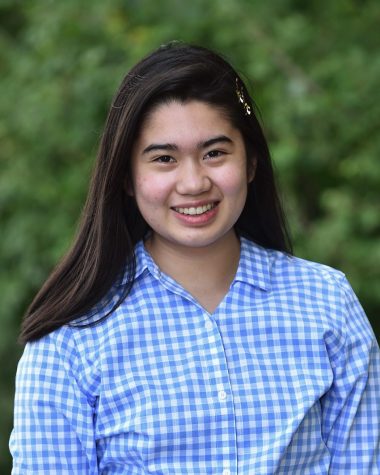 Danielle Nares '21, Co-Communications Editor
Danielle Nares is a junior at SLS and has been on The Sentinel for the past two years. She served as co-editor of the On Campus and Arts sections for the...