Frankenstein Turns 200!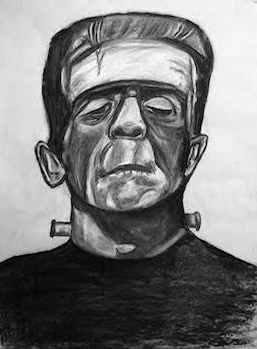 St. Luke's is participating in the international celebration of the 200th anniversary of Mary Shelley's Frankenstein.
During the week of October 22, Upper Schoolers were prompted to create a story in 45 minutes that reflected the themes and values of the novel. Since the Upper School could not gather in the SPAC on Halloween itself, the winner of the contest will be announced on Monday, November 5 at Town Meeting. So far, submissions from ninth through twelfth graders have been flooding in.
"[There have been] very good, very impressive, and very insightful submissions," says Mr. Flachsbart, Head of the English Department. He notes that the purpose of celebrating Frankenstein at school is to "gain an appreciation for the overarching themes of the novel, namely the double-edged sword of technology: how it helps us, but [also how] it comes with a cost." He also adds that the ethics of "science and technology [are] frequently ignored."
Similarly, colleges across America will host a wide variety of public programs and competitions exploring the novel's scientific, technological, artistic, cultural and social implications. For instance, Stanford University offers [email protected], a year-long series of academic courses that examine the spiritual and scientific dimensions of Frankenstein. Additionally, there were a series of international readings of the full text of the novel on Halloween.
Frankenstein has touched the lives of millions, and it immediately grabbed the world's imagination ever since its release in 1818. As the book reaches 200 years since its publication, people worldwide are reaffirming its relevance to modern-day society.