Varsity Field Hockey Defeats Hopkins for First Time in 10 Years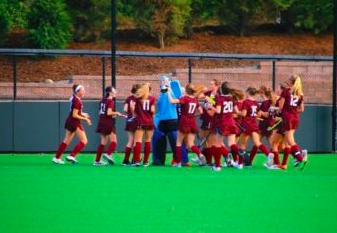 It was a hard-fought victory against Hopkins.
Despite an initial setback with Hopkins scoring first, Hannah Decatur and Caroline Price netted two goals to give the Storm the lead. Although this was a great win, it was in 2008 – the last time St. Luke's Field Hockey beat Hopkins.
Who would've thought that it would be ten years before another Storm triumph over Hopkins? Better late than never! On September 15, 2018, St. Luke's Varsity Field Hockey beat Hopkins on the brand new Class of 2018 Field.
Both offense and defense contributed to the strong 2-0 shutout. Lucy Ehlers '21 and Andrea DiTeodoro '22 scored the game's only two goals. Goalie Emma Cropper '19 made six key saves for the Storm. Cropper received help from a strong defense that allowed only one defensive corner.
Katherine Pellegrino '19 and Kendall Boege '19, captains for the 2018 season, have done a phenomenal job building the team bond. The strong connection among teammates is palpable both on and off the field.
On beating Hopkins, Pellegrino commented, "It felt like everything we had been working on all came together and we finally… clicked. To be able to beat a team we haven't beat in 10 years is insane! It also really motivates us to keep doing what we are doing and win more games!"
Boege added, "I was excited and not nervous at all because I felt we had nothing to lose while Hopkins had everything to lose, which helped us win because pressure usually gets to us."
Pellegrino commented on the importance of the team's dynamic, noting that since the team has "become so close off the field it has made [them] connect a lot more on the field. [The team] is not separated by grade and [players] feel like [they] can all talk to each other" since there "is a level of respect between everyone."
Boege elaborated on how the team's bond improves their performance on the field. "It allows us to communicate with each other on the field without the fear of offending each other."
The team's recent success may stem from significant changes to its program. This includes two additions to the coaching staff: English teacher Ms. Walsh and biology teaching fellow and alumnus, Ms. Fancher '14.
Ms. Fancher, stepping in as head coach for the 2018 season, played as a starter on the varsity team for four years. She went on to become a key player for Skidmore College, where she was recently awarded the Tim Brown Scholar-Athlete Award, a prestigious recognition for seniors who excel academically and athletically.
On coming back to the hilltop, Ms. Fancher shared that it "feels both natural and unnatural; it's natural to be here at St. Luke's because it's like going to school, but it's unnatural because of the different role I take on when I get here every morning."
Since the 2008 victory over Hopkins occurred prior to Ms. Fancher's time as a varsity player, it was truly a first for everyone on the team.
"When I played here, our games against Hopkins were always super close," Fancher recalled. "I remember going to their field and playing [at] their homecoming, [and] going into overtime and always wanting to beat them."
The Hopkins game marked the end of a successful week for Storm Field Hockey, adding to the week's previous wins against JFK Catholic (5-1) and Masters (6-0).
The team will face John F. Kennedy Catholic High School on Thursday, October 11th, and will play Miss Porter's School on Homecoming day.
"These next few games should be challenging, but they are definitely within our reach; it'll be fun to see the team push themselves and use the energy from within them. Scoring first will be vital because when we do score first, we realize the joy in scoring and want to do it again," Ms. Fancher noted.