Storm Football Family Sticking Together Through Challenges
Football, a full contact sport, confronts notable challenges in the face of social distancing. Despite this obstacle, the SLS football team has found creative and effective ways to stay in shape, continue to practice, and navigate the college recruiting process.
Practice protocols have had to change drastically in order to follow health guidelines. All of the team's equipment has to be sanitized at the beginning of practice, including footballs, spacer tapes, and cones. During practice, the team participates in different conditioning drills and practices running routes. Since they can't do any tackling or hitting, from time to time they practice tackling dummies.
Not only have players had to adjust the way they practice, but coaches have also had to totally remodel how they coach. Head Coach Mr. Thomas said he and the other coaches have to "invent new ways to coach." Thus, the coaches all have electronic whistles so they can keep their masks on, and Coach Thomas has a bull horn so players can hear him from any part of the field.
Alongside coaches taking precautions, players have to practice social distancing and wear masks unless engaging in strenuous activities. Even though wearing masks most of the time can be tough, the team has followed these rules and are keeping themselves safe. Senior captain Koy Price said, "The new protocols are the necessary steps in the right direction. I believe the football team has done a great job adjusting to all the new changes and have used the adversity as an opportunity to bond as a team."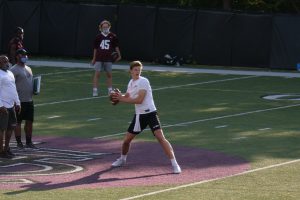 Although the team has been adjusting to these changes fairly well, they have not yet been able to wear pads during practice because they are not allowed to tackle. Senior captain Austin Andersen mentioned, "By now we would have been wearing full pads and helmets, doing hitting drills and ramping up for games." However, in the past weeks, helmets and practice jerseys were distributed and all players now wear them during practice. This has made practice more normal and fun, because wearing helmets during practice takes the game to the next level. Will Thomas '21 said, "When you put pads on, it's a different animal," and Andersen added that although they can't start hitting, "our team is doing everything possible to simulate regular football without pads." 
It can be hard to stay positive when you can't play the sport you love, and it's easy to look at the negative side of things. Price went on to say, "Practices have been different, but as Coach Thomas says, 'We don't have problems, we have solutions.' We have operated with this in mind and… practice as hard as we can with the hopes of a season." 
Andersen agreed, explaining that the "team has taken a positive, optimistic approach to the possibility of playing games in the near future."
Fortunately, the team's wishes have come true and 7-on-7 games have been scheduled against other schools. Will Thomas described a 7-on-7 as "basically football without the linemen. We don't have any running plays, so it's a lot more fast paced and high scoring. It gives receivers and corners chances to make big-time plays and can be really fun to watch." The players will have helmets and jerseys, but will not have pads and won't be tackling the other team. Some of the scoring rules are modified as well.
It is disappointing that the team only gets to participate in 7-on-7's, especially since many other states are proceeding with a normal season, but the players have had a positive outlook. Andersen said, "7-on-7 will help us build team chemistry and work on our coverage skills on the defensive side of the ball, while offensively getting our receivers and [quarterbacks] the work they need to be successful going forward. This is absolutely a step in the right direction for our program, as we are making something out of nothing." 
However, the 7-on-7 format excludes linemen. In an effort to include every member of the team, Coach Thomas explained that the coaching staff will create fun opportunities to get them involved: "In most competitions, we will include a fun, combine-style lineman challenge to ensure full engagement for every member of our football family."
In addition to the changes during practice, the college football recruiting process has had to be modified. Recruiting has changed drastically this year "due to the lack of summer skills [and] recruiting camps and actual fall games," Andersen said. Visiting colleges and interacting with coaches from other schools is a major part of the recruiting process, so missing those in-person opportunities is definitely challenging for prospective college athletes.
Nevertheless, having access to software like Zoom has helped connect athletes with college coaches. Price mentioned that it "has helped a lot of recruits reach schools that they previously couldn't." He also added that "in the age of social media, you are able to connect with coaches from all around the country."
Due to the lack of games and summer camps, the "recruiting timelines have actually been moved up, so instead of commitments happening mainly during the fall season, more players have been committing to colleges earlier," Andersen added. This can be both beneficial and harmful because players can get into college earlier. However, they have less film and experience to show prospective coaches who rely on that film to decide whether or not they will give an offer to an athlete.
Because of this, athletes have to find other ways to showcase their talent. The new weight room facility helps with this, as athletes can train and maximize their performance on the field. Director of Athletics Mr. West added, "For those with aspirations to play at the next level, [the new weight room] will also better prepare them for the type of training and commitment to fitness that they will be expected to display in the college setting." 
Despite these setbacks, the St. Luke's football program still aims to help the players grow and improve. Not even a pandemic can stop the persistence of the football team. Price explained that "St. Luke's prepares its student athletes better than most schools. Coach Thomas has instilled values that aren't usually taught until [we] get to college. … We prepare and operate like a college team, which will make the transition easy."
Overall, the determination shown by the athletes, coaches, and managers exemplifies just how much football means to them. When it comes down to it, as Will Thomas said, "Still playing football with all my teammates, having fun playing music, [and] throwing around the ball" keeps practice enjoyable.
Through perseverance and love of the sport, the Storm Football Family will continue their hard work and in turn have a great season. The team has been growing stronger physically and mentally, and their camaraderie has helped lay down a foundation for success. As Price added, "We have the groundwork to really do something special."