Joe Derr '24 has been on 11 cruises, experienced multiple live Broadway shows, and instructed sailing around Connecticut, yet his main passion comes from sharing his voice. Whether it's taking the lead in a St. Luke's theater production, singing his heart out at Blues Band, or entrancing the Upper School in a compelling meditation, Derr always captivates any audience in front of him. 
Having starred in numerous St. Luke's plays and musicals, Derr has performed in front of many audiences. But even as a seasoned performer, Derr confessed he "has stage fright to this day."
"It's the nerves right before going on the stage that really get you, but once you're out there it's like, 'well, there's no turning back now, I guess I gotta own it,'" said Derr.
Derr explained he still gets nervous because there are many things that could go wrong on stage that are out of his control. These uncontrollables sometimes force him into situations where he may have to improvise, with the challenge of staying in character. 
However, one thing that has never been an issue for Joe is "[owning] it." As described by Director of Performing Arts/US Theater Dawn Fuller, Derr "can sometimes come across as this quiet, introspective, observant person, but inside there's this LA-LA-LA [singing] waiting to come out."
Derr's boldness on stage also shines through when he's holding a microphone to sing. Derr proudly stated, "Ever since I was four or five, you could just see me spinning through the house belting a song at the top of my lungs."
This courageous side of Derr continued when he was eight years old, signing up for a casting competition known as "The Event." This experience solidified his love for singing, acting, and being on stage at a young age.
Additionally, Derr's compassionate side comes out when he's on stage interacting with his fellow cast members.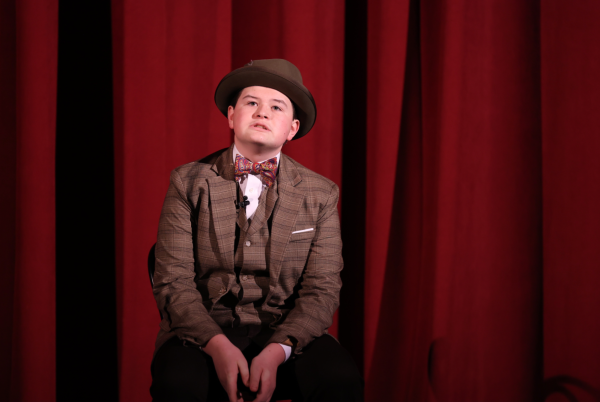 In 2022, during rehearsals of St. Luke's production of "Chicago," Alex Sheinkin '25, a member of the cast alongside Derr, was tasked with acting out a fight scene with Derr's character. 
This quickly turned sideways when a few smooth run-throughs of a fake hit in rehearsals accidentally became a real one. Sheinkin was "mortified and [she] started to get worried that he would think [she] did it on purpose…but luckily, Joe made a joke, laughed it off and made sure that [she] knew he wasn't mad."
Sheinkin, now one of Derr's closest friends, still rehearses alongside Derr and is able to see his "empathetic and energetic" self after school. 
In the fall, Derr juggles memorizing his lines for the play and performing his song for Blues Band, another St. Luke's after-school activity. Blues Band is a group of talented musicians that perform multiple solos in concert form in front of the Upper School at the end of fall.
Having two co-curriculars would be stressful for most, but Derr said he "always finds a way to maneuver both." 
With the help of Fuller and Upper School music teacher Peter Valera, who directs Blues Band, Derr is able to create a balance between the two activities that allows him to perform as much as possible.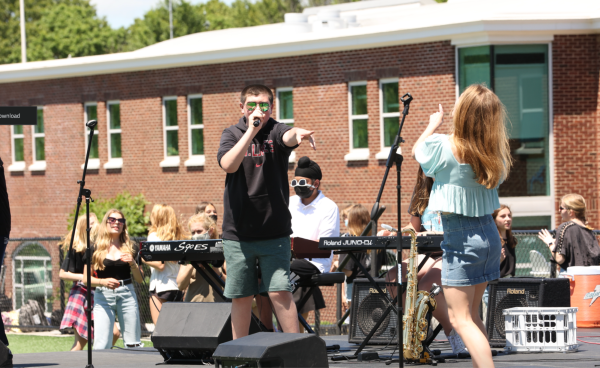 While Derr is dedicated to being on stage at St. Luke's, he admits that it's still a nerve-racking hobby. He even recalled his first experience of Blues Band as a "traumatic experience."
In eighth grade, Derr specifically remembers forgetting one of the verses in his solo performance, not knowing what to do. Now, Derr says, "I needed to redeem myself after that eighth-grade tragedy."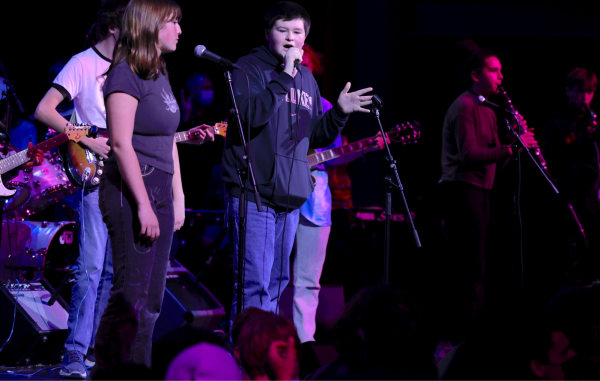 Derr persistently continues to "put [himself] out there and open [himself] up" to the crowd. As exhibited by Derr, this is not an easy task, yet he allows himself to be more and more vulnerable as he presents himself on stage. 
At the end of his junior year, Derr provided a compelling meditation about his family. Throughout the speech, Derr delivered his message to the Upper School, mesmerizing the audience in the Seldon Performing Arts Center.
While Derr said that he "still gets terrified" when taking the stage, he is "glad to have done it."
For Derr, it's not just about having the talent for acting and vocal gifts; it's also about having the temerity to put himself out there in front of live audiences and generously share his personal message through acting, singing, or meditation. 
You'll be able to see one of Derr's captivating performances when he stars in the latest St. Luke's theater production of "Soundscapes," on November 10 and 11.