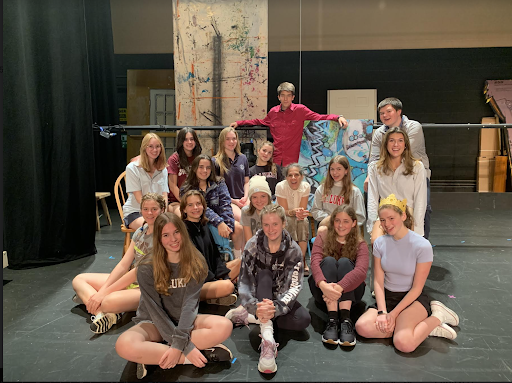 This year's fall play is called SoundScapes–and it's all about neurodiversity.  Co-authored by Claudia Hass and Sarah Kraning, the play revolves around a young girl, Iris, who grows up with a neurological disorder.
Her disorder is called Synthesia–a condition where sensory neural pathways connect to each other in unique ways.  These connections cause an individual to experience the world around them differently; some may hear color or taste words.  In Iris' case, she has Chromesthesia, a subset of Synthesia that specifically causes sound-to-color associations.
Iris is first introduced to the audience at age 6.  As she experiences life, she feels ostracized and oftentimes scared of her condition.  Not knowing what Synesthesia is, Iris is constantly confused by her senses, even misdiagnosing herself as Schizophrenic.
One of the coolest parts of SoundScapes is the Color Chorus.  As Iris feels, hears, and sees different emotions, a large blank canvas is painted over by a group of students who comprise this 'Chorus.'  Through the choice of color, the width of brush strokes, and the style of painting, the audience gains insight into the inner workings of Iris' brain.  Acting as an emotional medium, the canvas explores Iris' identity through color–allowing the audience to experience Chromesthesia firsthand.
Color Chorus member Elissa Tobin '26 says, "It's giving me the opportunity to bond with my friends through the unification of the Color Chorus, allowing us to merge into one overarching character."  This unity represents Iris' psyche, with each individual member portraying a distinct sense.  All come together as one, lending to an overarching theme of inclusivity.  
The Color Chorus combines with an intragalactic soundtrack filled with songs that match different planets in order to create a sensory experience.  This visual and auditory pairing of media lets the audience step into Iris' world.
According to Dawn Fuller, the Director of Performing Arts/US Theatre, SoundScapes "shows that learning differences don't have to separate us."  It breaks the stigma surrounding conditions like Dyslexia, Autism, and Synesthesia, proving that they aren't disadvantages, but rather, unique forms of perception.  For some, this altering of perception has already occurred: cast member Izzy Leeming '26 reports that the play "has given me more of an awareness of Synesthesia."
SoundScapes has an invited dress rehearsal on Thursday, November 9 after school; with performances on Friday, November 10, at 7 p.m.; and Saturday, November 11, at 2 and 7 p.m.  Show up, support St. Luke's Theater, and learn a little about neurodiversity through SoundScapes' rich, sensorial experience.