On September 9, Coco Gauff became the youngest US Open winner since Serena Williams in 1999. The 19-year-old American female athlete has been playing tennis since she was six, and has been an inspiration to young, female women all around the world. After a crushing defeat during the first round of Wimbledon in July, Gauff rose to the occasion and took the US Open by storm. 
This win is emblematic of the power that young, female athletes have and how they are not to be underestimated. Gauff's win empowers female athletes at-large and in the St. Luke's community to dream big. 
To get a better understanding of what currently St. Luke's women's empowerment strategies are; Emily Allen, who coaches girls varsity field hockey and boys varsity hockey, spoke on the subject.
Firstly, she described the important role that coaches play in encouraging younger athletes. "The coaches that I had in my life were so important to me. They helped develop my character, my leadership skills, my physical and mental toughness, and I wanted to be that role model for other student athletes" said Allen. 
She brings that same energy to her coaching strategies, constantly uplifting and encouraging the team. Yet, Coach Allen is not the sole contributor of empowerment on the girls varsity field hockey team. She said that "all of our athletes are strong leaders, each in their own way, which is the most empowering thing about the team itself." 
The culture on the team emphasizes "being who you are" which is critical to success in the face of a competition. Allen further explains the team dynamics saying "everyone [on the team] understands that everyone is different and brings different positive things to the table". 
This team spirit is vital in order to redefine the stigma around women's sports. Allen discusses the stigma around women's sports saying "[We] live in a society that puts pressure and expectations on young women and their behaviors". Having a supportive environment inspires women athletes to be the best version of themselves.
The stigma around women's sports is why Gauff's win is vital to the progression of gender equality within sports. As Allen noted, "Gauff winning and being so young and such a dynamic person to watch speaks volume to increasing awareness about how great female athletes can be." Her win redefines women in athletics, painting a fiercer and more confident picture. 
An additional bonus to Gauff's win is equal pay. Coach Allen said, "Equal pay sets the tone to how important women's sports are." It creates a higher level of seriousness and professionalism.
On a smaller scale, Allen explained the impact of the win to the potential changing dynamics seen in high school sports, specifically girls varsity field hockey. 
Allen hopes that "if that [the respect towards female athletes in a professional setting] can continue to trickle down to people seeing female athletes as strong, competitive and fierce as she [Gauff] was, then that will bring more people to female games and higher support."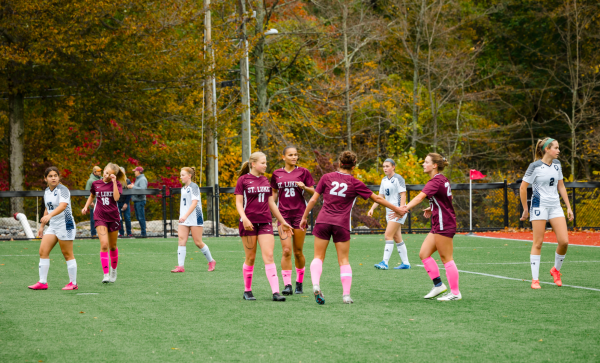 The St. Luke's community plays a major role in encouraging and supporting our women's sports teams. Allen shared, "We have really successful female teams who don't really receive the fan support or the encouragement from the greater community as some male teams do." 
The viewership discrepancies across sports are subject to change now that the town meeting rules have stopped the publication of all sports activities; potentially decreasing the viewership of all games. 
"Across St. Luke's community we have room to grow in regards to school spirit and pushing each other and supporting each other," said Allen. Coco Gauff's US Open win is the start of change for female sports on all levels. By spreading awareness of women's sports, St. Luke's is building a brighter and unified future. 
As we head into the end of the fall sports seasons there are myriad opportunities to support women's sports. Girls varsity soccer makes it into the Fairchester Athletic Association (FAA) semifinals on November 7 at Sacred Heart as well as girls field hockey.