Chadwick Boseman: A Superhero On and Off Screen
On August 28, "Black Panther" star Chadwick Boseman passed away after a four-year battle with colon cancer. Boseman's wife and family were by his side in his final moments. 
Boseman's career skyrocketed after he starred in the 2013 film "42," in which he portrayed baseball legend Jackie Robinson. He has depicted other historical figures such as James Brown in "Get On Up" and Thurgood Marshall in "Marshall." 
Boseman made his Marvel Cinematic Universe (MCU) debut in the movie "Captain America: Civil War," when he took to the screen as superhero Black Panther, a.k.a. King T'Challa. In 2018, he got his own groundbreaking solo movie, "Black Panther," which earned $1.3 billion in the global box office. This was a huge step for the Black film industry because it was the first mostly black cast to star in a blockbuster superhero movie.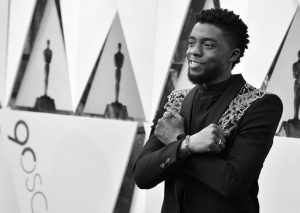 "Black Panther" impacted the world in a way that was never thought possible. Children all around the globe celebrated it, and it changed so many lives. In fact, students at Ron Clarke Academy broke into a celebratory dance because they were told they were being sent to see the movie. For Black and African American children, seeing heroes that look like them on a movie screen is essential. It gives these children role models to look up to and shows them that they are beautiful and can do anything. Kids all over the world are mourning the loss of their biggest hero.
Boseman has also left a mark on the acting industry. He has opened doors for countless young Black and African American actors and actresses. In a speech he delivered at Howard University, he said, "When God has something for you, it doesn't matter who stands against it. God will move someone that is holding you back, away from a door, and put someone there who will open it for you if it's meant for you." His legacy will live on in his work and the opportunities he has created.
Boseman was a superhero on and off the screen. He was a role model for countless young kids, and his determination and strength is admirable. Boseman did not speak publicly about his diagnosis, yet he continued on with his work, demonstrating strength and heroism daily. He filmed many action-packed movies while undergoing chemotherapy and surgeries. Strong isn't the word to describe him. He was more than that; he was a hero.
On multiple occasions, Chadwick's compassion stood out to me. There are a few in particular that made me realize how big his heart was, and how great of a man he was.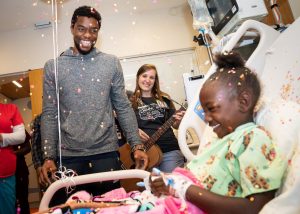 Two years after he was diagnosed, he visited St. Jude Hospital and met tons of young kids who were suffering from cancer. He took photos with them, autographed various keepsakes, and made them feel loved and valued. Looking back on this moment now, it really stands out to me. While visiting these children, Boseman was fighting his own battle with cancer, but he stayed positive and made these kids feel special. I can't even imagine how he felt while visiting the hospital.
Another moment that stuck out to me was at the 2018 MTV Awards, when Boseman won the award for Best Hero for his role as Black Panther. His acceptance speech grabbed my and the audience's attention: 
"Receiving an award for playing a superhero is amazing, but it's even greater to acknowledge the heroes that we have in real life," he said. "So I just want to acknowledge somebody that's here today. James Shaw Jr., where are you? Stand. . . He fought off a gunman in Antioch, Tennessee, at a Waffle House. He saved lives." 
Boseman wanted to honor Shaw Jr. because of his bravery, so he handed the award to Shaw Jr. and said, "This is going to live at your house." 
Chadwick's acts of selflessness and generosity have made me want to live more like him. His empowering spirit and the joy that radiated from him made him someone that everyone wanted to know and emulate. He led his life with dignity and grace, and that is something we should all aspire to live up to.
Everyone who worked with Boseman is grieving; however, they are still celebrating him. His MCU castmates and friends shared emotional posts, videos, and stories of him to commemorate his life.
Although dozens of events have shaken the world this year, this is one of the hardest blows. As kids and teenagers, Marvel movies have been a large part of our childhood and teen years. Witnessing the sudden passing of someone you've known and loved is heartbreaking.
All we can do is look back on Chadwick's life in gratitude and celebrate his heroism. He had a beautiful soul and a big heart. His passing will forever impact our lives and the world we live in.
Rest in peace, power, and love. Wakanda Forever.